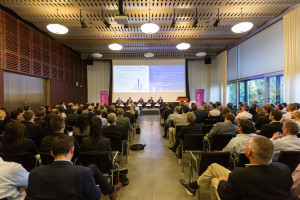 The nature of extreme weather events and their impact on energy infrastructure were at the core of discussions during two recent meetings of the knowledge network members of the
Financing Resilient Energy Infrastructure.
Leading practitioners in energy, environment, and finance met at the Swiss Re Centre for Global Dialogue in Rüschlikon, Switzerland, at the end of April, and at the
Asia Clean Energy Forum and the World Energy Leaders' Summit
in Manila, Philippines, in June. The two workshops focused on identifying the risks and technical changes needed for energy infrastructure adaptation to extreme weather, as well as the financial implications behind this energy transition.
The workshops looked at five key audiences – utilities/energy companies; project developers; long term investors; banks and insurance institutions (as "risk takers") and regulators / (governments). The five key actions considered for each group were:
What do we want them to do?

What is their intrinsic motivation?

What will get them to act?

What obstacles hinder them that we need to be addressed?

Next Actions
One of the emerging findings is that regulators must set better guidelines to incentivise resilience. In the absence of regulatory standards, project developers lack the guidelines for how much resilience is needed, and risk underestimating the amount of extra capital needed for evolving energy infrastructures. Accessing the long-term financing for these infrastructures therefore requires a clear understanding of the benefits associated with investing in increased resilience. All findings of the research and discussions at the workshops and roundtables will be fed into the further development of the World Energy Perspective on Extreme Weather and Energy Infrastructure Resilience Report to be published in October 2015.

The forum in Switzerland also featured a high-level risk discussion panel that included World Energy Council Secretary General Christoph Frei and Phillippe Joubert, Chair of GEI, in addition to senior leaders from Swiss Re and Citibank. More than 200 finance experts gathered to hear more about resilience in the energy sector. In the Philippines a dedicated energy leaders' roundtable, including the Minister of Energy of recently impacted Nepal and the Philippines, explored how governments and private companies can best prepare for the 'new normal', manage new risks and ensure increased energy system resilience.

Photo from left to right: Phillippe Joubert, Chair of GEI;Juerg Trueb, Managing Director, Swiss Re; Jan Peter Onstwedder, Managing Director Citibank; Christoph Frei, Secretary General WEC; Christoph Nabholz, Head Business Development, Swiss Re Centre for Global Dialogue.