Faraday Grid, the energy technology company, has announced a new partnership with the World Energy Council as Innovation Supporter.
Faraday Grid becomes Innovation Supporter of the World Energy Council

Shared goal of a sustainable energy future includes joint project on the challenges of grid stabilisation
The World Energy Council and Faraday Grid have a shared goal of achieving a sustainable energy future. The two organisations will actively collaborate in a broad program of activities, starting with a project looking at how to address increased volatility in electricity grids as renewable energy penetration increases.

Faraday Grid's collaboration with the World Energy Council, representing the entire energy spectrum, marks the latest milestone for the company as it continues to establish partnerships across all continents.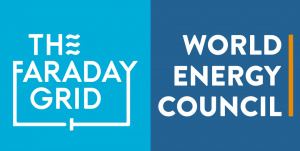 Andrew Scobie, Founder & CEO of Faraday Grid, said: "To achieve sustainable energy and prosperity for all, we need an energy system fit for the future. This means our thinking and solutions need to be truly innovative and transformative. Faraday Grid's partnership with the World Energy Council is an expression of our commitment to achieve clean, reliable and affordable energy."

Christoph Frei, Secretary General and CEO of the World Energy Council, said: "We're in the midst of an unstoppable digital revolution which is having a transformational impact on the way we use and produce energy. The World Energy Council is constantly strengthening its tools and insights to support a smooth energy transition and learning from leading innovators is critical to deepen our understanding on how new business models and technologies can shape our energy future. We look forward to working closely with Faraday Grid over the coming years as we tackle the issue of secure, affordable and sustainable energy for all."

About Faraday Grid:
Faraday Grid was formed from the desire to solve global challenges facing our society and environment. The company is dedicated to re-imagining global energy systems to enable sustainable prosperity for all. Specifically, with innovation in deep tech, Faraday Grid is revolutionising electricity networks.

The Faraday Exchanger technology:
The Faraday Exchanger is an autonomous hardware device which operates in isolation and independent of any central network management.

It replaces the function of existing electricity network infrastructure – transformers, converters, inverters and rectifiers.

It is complementary to existing distribution networks and other technologies, improving performance and efficiency whilst being significantly cheaper than the sum of the technologies it replaces.
The Faraday Grid platform:
The Faraday Grid has the potential to do for energy what the internet did for communication – utilising existing networks to unleash a radically new system. This grid would be enabled by Faraday Exchangers in the same way that the router enabled the internet.

The Faraday Grid is a revolutionary design for electricity distribution which allows power to flow bi-directionally to anyone anywhere across a network, unlike existing one directional networks.

It autonomously and continuously adapts to variations throughout the network, creating a highly stable system capable of managing major fluctuations in supply and demand.

Implemented at scale in a network, Faraday Grid's simulations (see: faradaygrid.com/publications) demonstrate that the Faraday Grid can:

Double a grid's capacity for hosting distributed energy to 60%.

Increase a grid's capacity for hosting variable renewable energy overall to over 80%.

Reducing the need for complex and costly back up generation and balancing services (by improving grid stability and flexibility).

Increase overall network carrying capacity by an average of 25%.

Reduce network losses by up to 34%.

Ultimately, this will make buying and using electricity easier, cheaper and more reliable than it is today – for everyone.

It can be incrementally deployed, making it a scalable, economically viable solution for large-scale electricity grids, smart cities, smart buildings and electric vehicles.