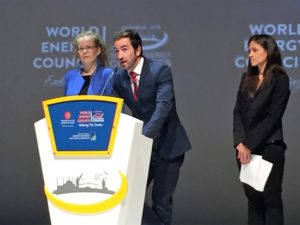 Talented young energy professionals had an amazing opportunity to declare their Vision for the Future of the energy sector during the closing ceremony of the 23rd World Energy Congress in Istanbul on 13 October.

Having combined their efforts to define an overall Future Energy Leaders (FEL) vision for years to come, the members of the FELs felt optimistic in being able to offer solutions to the challenges facing the energy sector in order to contribute to a sustainable future.

Millennials will make up almost 50% of the global workforce by 2020, and will bring new approaches. As customers, the millennial generation's influence will increasingly grow. Companies will need to rethink their brands, business models and methods of marketing.
Pirjo Jantunnen, Chair, Future Energy Leaders, World Energy Council, said: "I am honoured to see so many young energy professionals gathered here. The 23rd World Energy Congress is an opportunity to shape the challenges and opportunities we are currently facing on a national and industry level into one critical voice. It is clear for all of us, Future Energy Leaders, that the energy industry is changing faster than ever. There are plenty and complex challenges in the energy sector to be solved under the Grand Transition.

"As professionals, we are ready to shape the energy future. In these challenging times the sector needs to attract the most skilled and enthusiastic workforce. Examples of the work already done such as the Council's Energy Academy and networks of national young energy professionals are inspirational. Organisations need to develop strong long-term strategies for talent management. The energy industry has been dominated by engineers and thus by males. In order to have more women in the industry, we need to have more women studying science and mathematics, and thus change society's expectations."
In parallel to the main Congress, the Future Energy Leaders hosted their own FEL Congress which consisted of various themes from the future of hydrocarbons to talent development and various interactive session formats with the programme based on FEL interests. It provided a platform for participants to exchange ideas and network with the FEL Board and participate in one of seven FEL taskforces including: Climate change: The world of energy after Paris Agreement; Digitalisation: Impact of digitalisation on the energy industry.
During the week they had a chance to discuss and influence CEOs, Energy Ministers and Policy Makers and will offer solutions for current issues concerning the energy landscape. It was also an opportune setting to engage with the leaders of tomorrow, as well as highlight the value of the Council's Future Energy Leaders' programme to young professionals within the energy sector.
To read the full declaration click fel_vision-for-the-future-declaration:
future-energy-leaders-vision-for-the-future-declaration
Comments
No comments have been posted