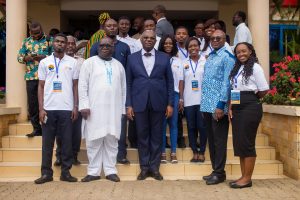 Ghana officially launched its national chapter of the World Energy Council's Future Energy Leaders' programme and welcomed ambitious young professionals interested in energy from Corporate institutions, government and Universities in an effort to join the scheme.

The launch of the programme under the theme, 'Building the capacity of young energy experts to think out of the box for a sustainable energy future', held at Ghana's Energy Commission on 30 August, is the first of its kind within Africa.

The future Energy Leaders' programme is a platform designed to shape and grow young professionals to become the energy leaders of tomorrow by engaging them in national, regional activities and events. Its objectives are to inspire participants to become the next generation of energy leaders capable of solving the world's most pressing and rapidly changing sustainability challenges.
William Horsu, Fel-Ghana Coordinator, said:
"The aim of the programme is to enable Ghana to become a more active member committee through its young energy leaders of tomorrow. Currently, our existing leaders do not have any plans for nurturing future talent for our youth within the energy sector. The opposite is true in countries such as Germany. The future of our country will be in the hands of our youth. The FEL national programme will act as a springboard to enable this to happen."

Rosa Djangba, member of the Council's global Future Energy Leaders' programme, commented:
"Young energy professionals are not really currently involved in the energy sector in Ghana. Their voices and opinions are not heard or considered when decisions are being made. The leading actors in the Ghana's energy sector are the much older professionals who will soon be retiring out of their jobs. There is therefore the need to bring up a generation of energy professionals who will take over the energy sector and make decisions that will help improve access to reliable sources of energy among others.

"There is also a generation of young people who want to pursue careers in the energy sector. There is a need for an organisation that will be able to provide advisory services for such individuals. FEL Ghana will go a long way to solve some of these issues. I am very excited about this launch, and the future is bright for Ghana. FEL Ghana will seek to have partnerships with other FELs in member countries to embark on projects that will be mutually beneficial for the Council's partnering countries."

Earlier this year, Sheila Elizabeth Bortey-Kharis, an electrical engineer with the Ghana Grid Company Limited working as an operations planning engineer at the nation's system control centre, was selected as part of the Council's FEL-100 programme. Her role work is to draw day ahead plans for the operation and control of the National Interconnected Transmission System in Ghana. She looks forward to working with the many young experts across the globe and sharing her experiences and knowledge as result, with her Ghanaian counterparts.
Comments
No comments have been posted