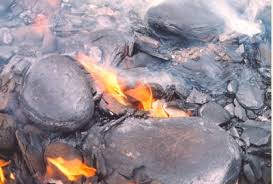 Organised by the
Estonian member committe
of the World Energy Council, the capital of Estonia will host on 20 and 21 September high-level energy experts' discussions about the current state of the oil shale industry as well as its future opportunities. Oil shale is an energy resource that constitutes about 4% of Estonia's gross domestic product. The oil shale industry in Estonia is one of the most developed in the world. Of all the oil shale fired power stations in the world, the two largest are in Estonia.
The
Oil Shale Symposium
, being held in Tallinn for the fifth time, is dedicated to celebrating 100 years of oil shale mining in Estonia which is a momentous anniversary in oil shale development. The symposium will offer unique opportunity to hear about the industry experiences of Estonian and other leading oil shale exploiting countries.
Mining activity started in Kohtla and Järve in 1916, to study the organic and mineral potential of oil shale. Since the results proved to be beyond expectations, the industrial mining of oil shale in Estonia commenced in 1918.
"Estonia has 100 years of experience and extensive knowledge in mining and processing oil shale. This makes us one of the modern and environmentally friendly oil shale developers in the world. Estimates of oil resources are many times greater in oil shale than in petroleum, therefore, ever more countries are taking an interest in tapping their oil shale reserves. In addition, we are able to export our unique know-how, scientific research findings, technology and project management services to other resource holding countries."
The event will be attended by the representatives of the World Energy Council and the
United States Energy Association, the Council's American member committee
, as well as experts from the world's leading oil shale industries and academic institutions involved in the sector.
The event is being organised in collaboration with the Ministry of Economic Affairs and Communications, the Estonian Ministry of the Environment, Estonian National Committee of the World Energy Council and is supported by the Environmental Investment Centre.
Hando Sutter will be leading a high-level discussion on smart grids at the
23rd World Energy Congress
in Istanbul next month between 10 and 13 October.