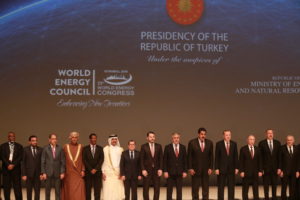 Four heads of states from some of the world's largest suppliers of energy, convened to discuss tackling critical energy issues at the
23rd World Energy Congress
in Istanbul on 10 October.
President Vladimir Putin of Russia, President Ilham Aliyev of Azerbaijan and President Nicolas Maduro of Venezuela joined Recep Tayyip Erdogan, President of host nation, The Republic of Turkey on day one of the congress.
President Erdogan, said that solving problems of scarcity and delivering supplies is a first step towards tackling the region's most troubling problems.
"Unless we solve energy issues, we cannot solve any other issues,"
he said in his keynote address at the Congress.
Stating that their goal is to transform the congress into a platform for exchanging ideas about vision and scenarios for the future of energy and to turn energy into an instrument for peace and justice.
President Erdoğan said: "The issue of access to energy in Africa, which we bring up at every chance on international platforms, will surely be one of the main topics of the congress.

"Turkey views the problems in Africa differently than most of the other countries that have an interest in this geography. First of all, I would like to underline that our country and nation do not have the shame of colonialism in their history. Our country's approach to Africa is based neither on natural resources nor on human resources or on any other self-interest. We, above all else, seek to revitalise our historical, strong ties with Central and North Africa based on humanitarian values and tenets."

One of the overarching themes of the congress was echoed by Russian President Vladimir Putin who said:
"Our common task is to ensure that all people in the world have access to modern energy sources. I would like to remind you that there are still two billion people in the world who do not have such access. We must remove the energy barriers on the road to universal economic growth and development. We must ensure that people in even the poorest countries have access to the basic blessings of civilisation such as electricity, light and heating.

"It is a great pleasure to have the opportunity to address such an authoritative international forum. I believe that in the current complicated global economic situation, these talks taking place here at the World Energy Congress offer a good opportunity for a professional and concerned discussion of the biggest issues facing the energy sector today and their influence on global growth prospects."

In the margins of the congress, Erdogan and Putin both touched upon their nations' continued energy cooperation. This included signing an agreement for the construction of the planned TurkStream gas pipeline that would take Russia's natural gas under Turkish waters in the Black Sea towards Europe.

Russia is a main supplier of natural gas, crude oil and coal to Turkey and has agreed to build the Mediterranean nation's first nuclear power plant.
President Aliyev commented: "Energy security issues should be resolved in the future too. Countries rich in natural resources, transit and consumer countries should act like one team. We can't allow unreasonable competition. There must always be a sound competition. The countries producing and exporting oil and gas should have better mutual understanding.

"Azerbaijan has always supported this, so that we could ensure the interests of our countries and peoples. Our energy policy has enabled us to invest in foreign countries. In the first years of independence, we were dependent on foreign investment. Today, we are investing heavily in other countries. This includes the investments we have made and will make in brotherly Turkey, which account for 20 billion dollars. This strengthens our economy and the Turkish economy. This strengthens our unity."

Venezuelan President Maduro concluded a series of bilateral agreements with his Turkish and Azerbaijani counterparts Monday on the sidelines of the 23rd annual World Energy Congress in Istanbul.

As part of the agreements, both countries will invest in improvements to port and transport infrastructure at the Jose Antonio Anzoátegui Refinery as well as in the construction of an oil storage facility on Turkey's Mediterranean border.
Comments
No comments have been posted