– by Javier Jiménez Pérez, WEC Spain
Creating incentives for investment in interconnection is essential if the EU were to maintain industrial competitiveness, experts said at a recent WEC Spain conference.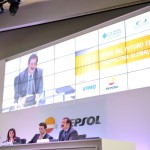 The EU is well positioned to benefit from today's ever more globalised energy market, delegates heard. Thus it is crucial to boost financial support for European companies seeking to enter markets outside the EU. For this, the role of international financial institutions is indispensable.

Final energy prices must also reflect the total cost of energy, delegates also heard. This is paramount for improving energy efficiency.

These remarks were made at the WEC Spanish Committee's annual conference, which took place on 20 November 2012 in Madrid. The meeting, entitled "Facing the challenges of the energy future: global and European approaches", reviewed some of the major issues on the international energy agenda, including those affecting Europe. The event devoted a session to analysis of EU energy and climate policies and their impact on industrial competitiveness.

Speakers voiced concerns about the impact of the EU's weak economy and the lack of global climate agreements on the EU's energy priorities: that the EU might shift its attention to other issues such as employment, energy security and industrial competitiveness. This problem is exacerbated by the double challenge that European companies are facing: not only do they need to grapple with the economic downturn in Europe, they also need to comply with the EU's high environmental standards.

According to Ángeles Moreno, Ambassador on Special Mission for Energy Issues from the Spanish Ministry of Foreign Affairs and Cooperation, rising legal insecurity means that the EU has a particularly important role in protecting European investments in so-called 'third countries', or non-European countries.

The WEC Spain event gathered senior energy experts from the WEC and other international institutions such as the International Energy Forum (IEF), European Investment Bank (EIB), BusinessEurope, Agency for the Cooperation of Energy Regulators (ACER), and the European Commission, plus CEOs and top executives of the Spanish Committee's member companies. The event drew more than 300 attendees for discussions on global energy challenges, energy and geopolitical scenarios, and the effect of EU energy and climate policy on industry competitiveness.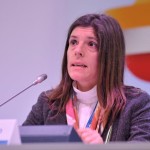 Rising legal insecurity means the EU has a particularly important role in protecting European investments in non-European countries, said Ángeles Moreno, Spanish Ambassador on Special Mission for Energy Issues
Aldo Flores-Quiroga, Secretary General of the International Energy Forum, said that multi-stakeholder dialogue was crucial to address growing energy demand.
Arturo Gonzalo, Chair of the Spanish Committee, agreed.
"The energy sector is in a decisive moment in which finding a sustainable response to rising energy demand entails an ambitious challenge. In this sense, meetings like this one, which enables the exchange of views between businesses, international organisations, and governments, are crucial in addressing the challenge."
More info on the event:
http://bit.ly/W8vSQs