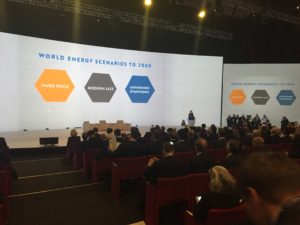 The
23rd World Energy Congress
was an amazing opportunity for member committees to network and gain valuable insights from the many of the key players within the energy sector.
The World Energy Congress held in Istanbul between 9 and 13 October provided a unique opportunity to take a complete and global view on pressing and long-term energy issues including visions and scenarios for the future.
With the power sector addressing a myriad of challenges to ensure secure and sustainable future supplies, the Congress covered issues across the power spectrum ranging from the state of nuclear energy after Fukushima, to energy security, power transmission and innovation.
Delegates attending the event heard from five heads of state including Turkish President
Recep Tayyip Erdoğan
who opened the event, and witnessed exchanges among policymakers of several countries central to the energy game. Khalid Al-Falih, the Energy Minister of Saudi Arabia, Alexander Novak, the Energy Minister of Russia and Maros Šefcovič, European Commission's Vice-President for Energy Union were all in attendance.
Top executives of the World Energy Council, global opinion leaders including representatives of IAEA, IEA, IPCC, IRENA, OPEC, UNECE, UNDP, KAPSARC, WHO, WWF, Oliver Wyman, Accenture, PwC and World Nuclear Association, lead high-level discussions on how to address the energy trilemma.
The format of the
programme
featured opening, closing and panel sessions designed to ensure that there was a narrative to the event based on sharing best practice and identifying solutions for key issues facing the energy sector:
Vision and Scenarios for the Future Day one opens with visions for the future of the global energy system, exploring the most dynamic areas and game-changers that are shaping the energy of tomorrow.

Identifying the Business Opportunities: Resources and Technologies Day two will focus on the business opportunities and resource management, as well as responding to the new challenges of adaptation and innovation to ensure a secure and reliable energy system.

Policy Solutions to Secure Prosperity: Embracing the Trilemma Day three leads the discussion to the policy implications, with sessions designed to address the necessary institutional change to balance the World Energy Trilemma.

Africa: Securing a Sustainable Energy Future Africa will provide the key focus for day four, exploring the critical drivers and innovations to secure a sustainable energy future for the region.
Comments
No comments have been posted