The World Energy Council's triennial flagship event, the
World Energy Congress
is the largest and most influential energy event covering all aspects of the energy agenda. The World Energy Congress brings together heads of state, energy ministers, business leaders, researchers, practitioners, and representatives from international organisations and civil society to drive forward the agenda on the energy transition, by sharing experiences and developments, as well as developing solutions to key issues.
We are focused on developing an exciting programme for the 24th World Energy Congress taking place in Abu Dhabi, 9-12 September 2019, and our most important event platform will convene the world's energy leadership under the theme of
Energy for Prosperity
. Over four days, we will discuss the critical issues facing the energy system and identify the key dynamics, disruptions, and developments that energy leaders of states, companies, and civil society must navigate to ensure an effective energy transition whatever their situation. We look forward to our flagship Congress that will bring together established experts and radical thinkers from across the global energy ecosystem, with a range of opinions on topics that reflects the transition dynamics and geopolitical events, including sessions on the innovation ecosystem, block chain, and the developing role of hydrogen.
READ MORE ABOUT THE PROGRAM AND SPEAKERS HERE
With less than 50 days to go for the 24th World Energy Congress start, we aim to make this a truly memorable and well-attended Congress, welcoming delegates from the entire energy spectrum.
More than 250 speakers, including energy ministers, business leaders and energy experts have already been confirmed to speak at the 24th World Energy Congress.

The 24th World Energy Congress offers us the opportunity to showcase the depth and range of our insights and to convene energy leaders from our network and beyond. We are looking forward to bringing our most successful Congress ever to fruition with the support and partnership of the Congress Host the U.A.E. Our Congress is an unparalleled global event, attended by over four thousand delegates.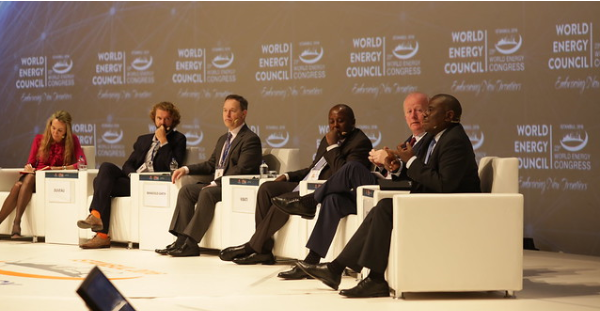 The World Energy Council will launch new Insights Publications at the 24th World Energy Congress in Abu Dhabi:
World Energy Trilemma 2019
In anticipation of the 24th World Energy Congress the Council is working on an evolved approach to the World Energy Trilemma Index.
The Council's Energy Trilemma Index provides an objective rating of national energy policy and performance across three dimensions: Energy Security, Energy Equity and the Environmental Sustainability of Energy Systems. The Trilemma provides a ranking of countries' energy performance using on global and national data. New this year will be an analysis of historic trends, which will give policy makers an opportunity to track their policy performance through time. The new World Energy Trilemma methodology includes indexation and scalability.
The World Energy Council recognises the value of adopting a whole energy systems approach in delivering the benefits of sustainable energy to all. The energy transition is an inter-connected policy challenge with success involving the balancing of three core dimensions. The results show impacts of decisions and changes, suggesting where policy coherence and integrated policy innovation can help develop well calibrated energy systems in the context of the Grand Energy Transition.

Scenarios Foresight Refresh
In anticipation of 24th World Energy Congress the Council is refreshing its global energy foresight. The last set of global scenarios was released in 2016 at the World Energy Congress in Istanbul. The report has developed three plausible pathways to 2060 to support the conversation on climate change agenda. The three scenarios are Modern Jazz, which represents a 'digitally disrupted,' innovative, and market-driven world. Unfinished Symphony, a world in which more 'intelligent' and sustainable economic growth models emerge as the world drives to a low carbon future, and a more fragmented scenario called Hard Rock, which explores the consequences of weaker and unsustainable economic growth with inward-looking policies.This time around we are maintaining Modern Jazz, Unfinished Symphony and Hard Rock archetypes, as we see signals of all three scenarios happening in different parts of the world. However we are refocusing to 2040 with aim to dig deeper into disruptive innovations coming from beyond, not just within, the energy system; and developing narrative that will go from today through 2040.The report will include new story lines to 2040, comparative analysis on energy implication, regional perspectives, as well as illustrative quantification (global and regional).