Slovenia's policymakers must allow its private sector to have a greater say in driving the country's long-term renewable energy decisions, delegates heard at a recent WEC Slovenia conference.

Professor Jean-Michel Glachant, Director of the Florence School of Regulation and Director of Loyola de Palacio Energy Policy Programme, made the introductory remarks as he moderated a panel discussion at the event, "Energy Policy Consideration", held by the WEC member committee with the Energy Industry Chamber of Slovenia in Ljubljana on 26 September. He said: "We [industry and policymakers] have agreed on an energy legislative package but it is up to us to improve its application in real energy life based on day-to-day experiences."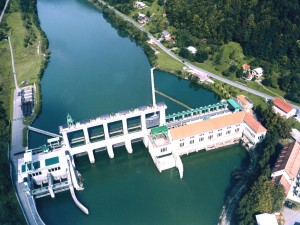 The event gathered speakers from government, the EU Parliament, the EU Commission, the World Energy Council, industry leaders from Slovenia and its neighbours Croatia, Serbia, Bulgaria, and embassy representatives in Slovenia.
Professor Glachant's call for energy policy to shift towards a market-based mechanism was in agreement with the
WEC Trilemma report's findings
and received resounding agreement from a number of panellists. Slovenian State Secretary for Energy Bojan Kumer emphasised the need for a new national energy framework.
Dr Franc Žlahtič, Chair of
WEC Slovenia
, an association of about 100 energy company and government members, said:
"Our current policy is not effective enough and needs to be oriented to long-term, stable goals."
He added that Slovenia's renewable energy policy "
is costing us too much",
and that "
renewables has to be put on a market-based mechanism."
At the core of the country's energy problem is the mandatory target for renewable energy and energy efficiency. In 2008 Slovenia set a target, by 2020, to provide 25% of its energy needs with renewables in compliance with EU goals.
To incentivise renewables uptake, the government started a financial support scheme in 2002 and upgraded it in November 2009. The scheme provided EUR 22.2 million in 2009 in the form of feed-in tariffs and subsides. The amount was increased over the years to EUR 89.9 million in 2012, and reached EUR 59.1 million in the first half of 2013.
The scheme's ramp-up coincided with a recession that started in 2009, when the nation's economy contracted by a staggering 8%. The economy has recovered slightly, but remains sluggish.
Most of the government's financial support has gone to boosting electricity production from photovoltaics, which costs at least twice as much as other renewables.
More investment is needed yet to meet the renewables target. According to Dr Žlahtič, for the period from 2013 to 2017 Slovenia will need a total of EUR 740 million invested.
Part of the problem is investing into the right type of renewables.
"It is evident that investment efforts are needed in medium-scale hydro to reach our national target. Unfortunately the potential for cheap hydro in Slovenia is limited."
Another problem is in setting new national policy itself. The Slovenian government wants to ensure that the energy sector provides significant opportunity for economic growth. It is looking to create a new national energy framework, but the process has been beset by political instability where frequent political disputes and government reshuffles, have prevented long-term policy from being agreed.
The complete transposition of the Third Package into national law in 2014 would be an important step for Slovenia's energy sector and economy, as it would provide greater clarity for investment into the country's energy infrastructure and energy services. This has been evident in the already functional Slovenian energy market, where new traders especially in the gas markets have brought lower prices.
Dr Žlahtič said that Slovenia has amongst the strongest interconnections in the region for electricity as well as gas. It is well connected with its immediate neighbours, but as markets liberalise, the actions of countries farther afield will have increasingly crucial impact on Slovenia's energy systems. Being able to anticipate the impacts needs strong regional energy cooperation and coordination, Žlahtič added.
Investment into network upgrades is needed not only for electricity but also to accommodate the increasing share of renewables.
The WEC Slovenia conference also saw Stefan Ulreich, Chair of the WEC's
Global Energy Frameworks
work stream, discuss the preliminary findings of a survey gauging WEC member committees' views on the nature of quantitative targets for the EU policy framework post-2020. The WEC Questionnaire on 2030 EU Policy, gathering the views of 25 countries, finds that European countries prefer a system with at most two types of energy targets. A majority prefers a target for greenhouse gases, with energy efficiency seen as a possible second target. Targets for renewables are least preferred.
Dan Rieser, WEC Deputy Director of Scenarios, presented findings of
World Energy Scenarios
, where he noted that the study can provide the global context for national decisions.
More on the conference:
http://www.energypolicyconsideration.si/#!home/c1rcc