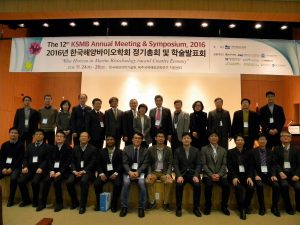 The ocean is an untapped, potentially sustainable source of bioenergy. There are many examples of the production of bio-energy from marine organisms, but the production of biofuel from microalgae presents perhaps the most promising option to harvest this huge energy potential.

In Korea, marine biotechnology is currently the focus of Blue Bio 2016, a strategic plan of the Ministry of land, transport and Maritime affairs. The strategy places marine biotechnology at the heart of a green growth strategy that aims to reach growth national product (GNP) per Capita USD 40, 000 through advances in marine biotechnology.

The strategy accompanied by significant investment and a focus on new research and development in marine organisms, marine organism production technology, new marine materials, as well as conservation of the marine environment, is set to make Korea a world leader in this field.

As part of World Energy Council Chair, Younghoon David Kim's commitment to reach out beyond the energy sector, he delivered a keynote speech at the 12th Annual Meeting and Symposium of the Korean Society for Marine Biology on 24 November. In his remarks, Chair Kim noted marine resources are one way to overcome geographical challenges faced by countries where the available land area was unsuitable for certain renewable energy systems.
Chair Kim commented: "It is vital to focus attention on the ocean's unlimited treasure of microbial resources. Microbial energy, an environmentally-friendly system that does not cause destructive climate change, offers a new paradigm in the era of the grand transition in energy."

In addition, in line with his interest in the energy-water-food nexus, Chair Kim called for technological advancements in marine biotechnology in order to find solutions to the questions of how to secure increasingly scarce resources like water and food.

More than a hundred of researchers from Korea and abroad attend this annual event.

Dozens of research papers were presented during the three-day event.

Topics included: 'Life Cycle Assessment for Different Cultivation Processes of Microalgae to Produce Biodiesel, 'Evaluation of Microbial Food Web Structure in Massive Microalgae Culture Facility', as well as a discussion on 'Marine Biotechnology for Industrial Application'.

The Society aims to promote the development of academic research in all areas of marine biotechnology.

This organisation's major activities include:
Hosting and scientific research presentations, lectures

Publication of academic journals, books and industrial technology-related magazines

Communication and cooperation with related institutions at home and abroad.