Associação Portuguesa da Energia, the WEC's Portuguese committee, has presented a new study on the current status of the country's household electricity market.
Electricity supply liberalization in Portugal began in 2004 but, for small consumers, a transition period to enforce the end of the regulated single-supplier system was established only in 2011. The transition is set to complete by the end of 2015 when the current regulated supplier, EDP Serviço Universal, will no longer be allowed new contracts while existing contracts are to be terminated.
"
With a long history of a single supplier, electricity consumers had a feeling, or a fear, that liberalised supply would lead to higher energy costs,"
said Bento de Morais Sarmento, Secretary of WEC Portugal.
The study
"Liberalisation of the electricity market – state of play"
focused on consumers of low-voltage electricity – typically households – which have less capacity to negotiate with suppliers compared with more energy-intensive customers of high-voltage electricity such as industrial users. The work, developed in partnership with Deloitte, analysed data on price, service quality, competition and consumer switching behaviour.
The study concluded that market liberalisation brought benefits to consumers, both in terms of price and in service quality.
"We found that the higher price in 2013 in comparison to 2011 was due to costs not under the suppliers' control,"
said Mr Morais Sarmento, adding that the energy part of the final cost had in fact reduced in that period.
Although the mean final electricity price in 2013 was about 15% higher than in 2011, the analysis showed that the increase was due to other factors.
The study has also clarified that energy (including all supplier costs and margin) represented only one-third of the final consumer price, the rest being the cost to access the grid and taxes.
Competition has led to an increase in households switching suppliers and a diversification in offers from suppliers, in the form of bundled gas and electricity supply, tariffs that differ based on the time of use, green energy, and efficiency services. The study predicts that suppliers will further develop tailor-made offers, adapted to consumers' needs.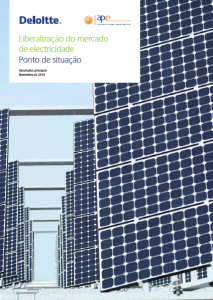 The WEC Portugal study can be downloaded from the member committee's webpage:
http://bit.ly/13659Mi