At the World Energy Council's Asia Regional meeting event hosted by the Korean member committee, Shigeru Muraki, Vice Chair for Asia Pacific and South Asia, noted that natural gas will continue to increase its share in the energy mix, increasing its role in distributed energy systems, as energy systems witnesses a shift from centralised to decentralised.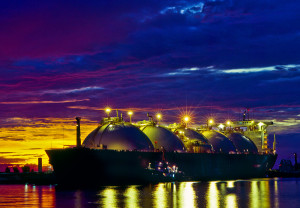 [LNG (Liquid Natural Gas) tanker at port with LNG liquefaction plant in background]

He cited other game changers as being renewables, hydrogen, ammonia, with coal and oil possibly peaking by around 2030. The question, he said, is whether natural gas will compete with or complement those game changers.

Muraki said stable energy supply may be achieved by complementing intermittent renewables and the use of high efficiency technologies, such as gas turbines and engines, fuel cells and combined heat and power (CHP)s.

Reviewing the new dynamics of the Asian gas market, during a presentation at the meeting on "Asian Energy Market Formation and U.S. Policy Impact and Energy Resilience", Mr Muraki said that key elements will be the evolution of contracts, pricing and markets; new market opportunities; new business models and technologies; and energy security and resilience.

He concluded by saying that American energy policy is in a state of flux and outlined the issues related to environmental, trade and foreign policy, regulatory rollback, tax reform and infrastructure development.

Nineteen members from six Asian Member Committees participated. Korea outlined its focus on energy welfare. Nepal said the government is focusing on the energy market but the biggest challenge is meeting energy demand. Indonesia reported that the government is seeking to increase the role of technology and energy efficiency as well as reliance on renewables and CNG.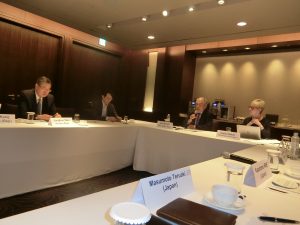 Singapore said the government will invoke a carbon tax; that water prices will increase by 30% to emphasise water is a precious resource; and that all companies listed on the Singapore Stock Exchange will be required to submit a sustainability plan. India highlighted the Indian Energy Congress to be held on 28-29 November, under the theme of Energy 4.0: Energy Transition towards 2030.

Hajime Murata, of the Japanese member committee, presented preliminary findings from the Asia regional study on "Best Practices of the GHG Reduction Measures in the Asian Region". The main objectives of the study were to increase awareness of best practices for Green House Gas (GHG) reduction measures and to enhance reduction actions to assist with the achievement of the countries' NDCs.

The next step will be to select the best practices from the data already collected and share these with other countries. The final report will be ready in October and will be uploaded to the Asia page on the Council's website.

Participants in the Asia Regional Meeting were also invited to participate in both the Food Energy Water (FEW) Nexus Conference and Inventor-Investor Close Encounter (IICE) Forum held in celebration of the 70th anniversary of Daesung Group.

Mighty Microbes for the Energy Revolution

The theme of the conference was "Mighty Microbes for the Energy Revolution" and experts in biotechnology and microbiology gathered to discuss the utilisation of microorganisms as a new source of renewable and sustainable energy.

Experts said that it is now possible to generate energy and electricity through scientific use of microorganisms. Microorganisms can be used to process waste water and generate purified water for humans.
David Kim, Chair, World Energy Council, said:
"I believe that we should make a firm commitment to a new energy future in the era of the Grand Energy Transition. The 1st Industrial Revolution was powered by coal and the steam engine. For the 2nd Industrial Revolution, petroleum and electricity were the driving forces. Now we foresee the advent of a new energy revolution to be galvanised by mighty microbes."

This is welcome news for Koreans since they are now experiencing severe drought and a shortage of drinking water in some areas of South Korea. In addition to this, there is growing anticipation that agricultural engineering, making use of biotechnology including microorganisms, may bring about a new kind of Green Revolution. Although employment of chemical fertilisers for more than a century has increased crop production, the resulting destructive effects upon our environment has led to the disappearance of insects and the near-extinction of swallows.

Agriculture using biotechnology could solve this adverse effect from chemical fertiliser, and make a great contribution to the resolution of food shortages.

Experts participating at the event included, Lee Choul-gyun, a professor of biological engineering at Inha University who pointed out that "Microbial biotechnology has proven itself already." Dr Lee talked about the vast potential microbes hold, and his view was echoed by others.

"Nature is self-sustainable and we need to learn how to be self-sustainable as well," said Ioannis Ieropoulos, director of the Bristol BioEnergy Center. The research center has developed self-sustainable robots using microbial fuel cells. Mr Ieropoulos explained that in his lab, bacteria feeding on organic waste metabolise and generate electrons as by-products. This was converted into energy through the fuel cell his team developed to operate robots.

Ieropoulos' team is currently working on a project where microbial fuel cells go into the bricks of houses to become part of the structure. "The household becomes self-sustainable," he said. "It acquires the ability to clean its own waste and generate energy."

While Ieropoulus talked about fusing fuel cell technology and microbiology, Lee Sang-yup, a professor of chemical and biomolecular engineering at KAIST, said bioengineering using microbes can be used to produce chemicals, fuels and materials.

The overall purpose of the conference was to seek solutions to expected shortages in the food, energy, water or FEW Nexus. The IICE Forum, which followed the FEW Conference brought together inventor/technologists and investors for discussions on related research and business opportunities.

For your diary: Indian Energy Congress, on 28-29 November 2017: 'Energy 4.0: Energy Transition towards 2030'.