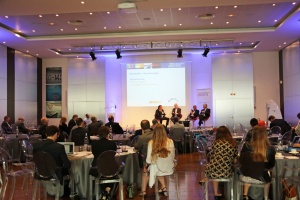 More than 70 participants from Europe, Algeria, Saudi Arabia and the United States convened at the 7th European Energy Forum in Paris recently, to explore the evolution of the oil and gas industries in a context of low carbon transition.
The forum also addressed the long-term impacts of the policies on the strategies of national and international oil and gas companies, as well the policies of producing countries.
In a keynote speech, Olivier Appert, former Chair of the Conseil Français de l'Énergie and Advisor at the Energy Centre of the French Institute of International Relations, outlined the medium and long-term trends that are likely to drive the strategies of the stakeholders in these sectors.
Faced with lower prices and a carbon pricing that will likely to remain below expectations, policies and reforms are particularly important to reduce the use of fossil fuels in transportation and electricity generation. In the transport sector, it is widely accepted that natural gas will play a major role as a substitute for coal and, to a lesser extent, oil tankers to produce electricity.
The current trend towards the decarbonisation of the world economy is a warning to country exporters whose economies are vulnerable to the direction taken by the energy transition.
It was highlighted that many countries have macroeconomic and industrial modernisation policies in innovative areas, with others less active in this respect. It was widely agreed the likely prospects of low prices would encourage continued economic diversification and rebalancing of budget strategies.
A second keynote speech was made by Didier Houssin, President and CEO of the French Institute of Petroleum, IFP Energies Nouvelles, on the role of technology in the decarbonisation of the energy system and its consequences for oil and gas industries, followed by a lively discussion on investments and their financing.
In Pierre Gadonneix's speech the former Chair of the World Energy Council, focused on the European energy model, the rationale of oil and gas operators, and the timescales of the transition.
The Forum closed with a roundtable moderated by Jean-Marie Dauger, Co-Chair of the World Energy Council on key issues such as the demand for oil and gas and forecasts of production. It was also an opportunity for participants to explore burning questions such as how the energy community can fill the considerable gap that exists between their goals and the actual reality on the ground.
The speakers' presentations are available at:
http://wec-france.org/forumEuropeen2018-presentations.php
. Proceedings in English will be available after the summer break.