On 17 June 2019, the World Energy Council held its first Innovation Forum (IF) on P2X, closely working with its German Member Committee. The event, hosted by Norton Rose Fulbright, brought together over 50 energy leaders from 10 countries. Moderated by Dr Angela Wilkinson, participants shared expertise, ideas and concrete proposals to mainstream P2X as an enabler of decarbonisation.
The energy transition will require a mix of clean, low carbon electrons and molecules. However, most of the focus to date has been on greening power and promoting electrification. Power-to-X (P2X), the process by which synthetic fuels are produced using power from renewable or other low carbon sources is a solution to fill this clean molecule gap. P2X can be used to decarbonise sectors which electrification will have difficulty reaching, provide a long-term storage solution and green industrial and chemical supply chains. In the P2X conversation, the "P" is commonly wind, solar and geothermal and the "X" getting the most attention is hydrogen.
Who attended?
In small groups, participants had the opportunity to deep dive into some of the key opportunities and challenges of P2X. Each discussion was kick-started by a provocation from experts in the field, including:
Thierry Lepercq, Founder, Solairestream

Olivier Machet, Hydrogen Technology and Business Development, Engie

Sam Muraki, Executive Advisor, Tokyo Gas

Jens Perner, Associate Director, Frontier Economics

Carsten Rolle, Secretary, German Member Committee of the Council
Participants ranged from policy makers to energy incumbents as well as new market entrants and investors. They shared the conviction that P2X has a central role to play in decarbonising our economies. Another point of agreement was that the P2X conversation cannot be based only on excess or curtailed renewable electricity. Different perspectives emerged on the preferred pathway, as different countries have different priorities and societal preferences. The consensus was that a clear vision should be set for P2X. While in the long-term the "P" should come from renewable sources, other power sources could support the development and economic viability of P2X in the interim. Nuclear power may have a role to play, particularly if the waste heat generated might increase the efficiency of conversion. The "X" discussed included hydrogen, however ammonia, biomethane and liquid organics were also considered by attendees.
Two goals emerged for the Council from this Innovation Forum:
Enable an international alliance to promote international coordination on P2X

Work with the private and public sectors to develop clear P2X commitments
"Transporting an electron can be up to 10 times more expensive than transporting a molecule."
"The real challenge today is the economic viability of the new hydrogen economy."
"One of the biggest challenges in building an international P2X market is infrastructure for the production, transport and consumption of hydrogen."
"P2X will be driven by demand; fuel producers need to catch-up"
"A global or regional carbon price would be a game changer"
Key Insights
As installed capacity of renewable energy continues to grow around the world, P2X's opportunities become increasingly evident. As noted by several participants, transporting an electron over-ground can be up to 10 times more expensive than transporting a molecule. Importing clean fuels from countries with favourable P2X production conditions can help to reduce costs considerably for importing countries and sustainably support the energy transition. Existing assets, including pipelines and salt caverns, could be re-purposed to transport and store clean energy. This would require a coordinated approach between industry and governments.

Today, over 60% the cost of producing hydrogen using electrolysers is the cost of electricity. P2X's economic viability therefore largely relies on low power prices. Continued deployment of lower cost renewable generation and continued reduction in power prices is therefore important for the success of P2X. Another variable are the operating hours of electrolysers. Attendees reached a consensus that 3,500-6,000 operating hours per year are required for the technology to be economically viable. In other words, using only excess or curtailed renewable electricity will not deliver economic viability. To bring the costs of electrolysers down, what is needed today is production scale-up, led by first movers and supported by appropriate regulatory frameworks.

Several options to bridge the geographical gap between P2X producers and consumers were discussed throughout the day and are assessed in the table below. Pipelines, both dedicated and repurposed natural gas networks, stand out as the preferred method to transport "X" over short to medium distances. Nevertheless, pipelines may not be a suitable option for very long distances, where instead a combination of liquefaction and transport via ships may be the answer. Liquid fuels have the benefit of greater transport flexibility as existing shipping infrastructure (including fleet) would allow such form of "X" to be delivered globally once terminals are suitably equipped to receive it.

Attendees considered regional P2X markets where existing hydrogen and natural gas pipelines and storage could be used or repurposed, reducing production costs. North America and Northern Europe were frequently mentioned. In the case of developing countries where new energy infrastructure would be required, additional investment challenges emerge, favouring local production and consumption. From a cost perspective, co-location of consumption and production was regarded a near-term solution to develop P2X markets which, once established, would have the financial capacity and infrastructure required to scale up into trading "X" over longer distances as a commodity. In summary, there is no one size fits all solution, rather geo-specific solutions based on different economic and energy contexts.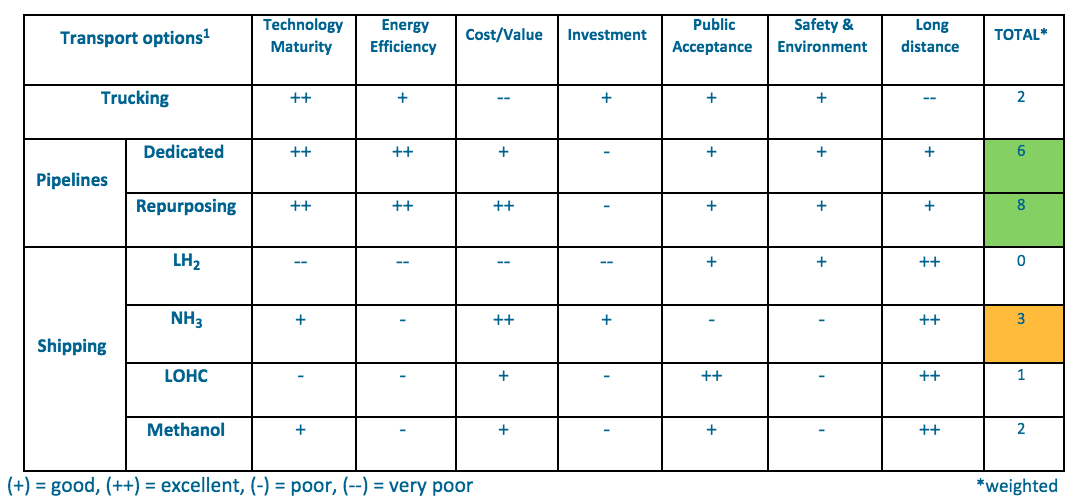 P2X is about end-users and uses beyond the energy system working to green their sectors. Whether it is for transport, agriculture, steel and iron production or heating, demand for clean fuels and feedstocks is growing and will continue to do so. Conventional fuel producers have an opportunity to lead the transition, repurpose their existing infrastructure and make use of their expertise. Yet currently, the P2X producers are mostly small and medium sized enterprises with the exception of a few international companies. To accelerate P2X, large scale investments and commitments from conventional fuel producers are required.

Bold decarbonisation targets underpinned by a global carbon price were regarded as the main game changers for P2X. The development of global renewable standard for X will also be important for the development of global markets. Attendees nevertheless agreed that national and regional actions and policies should be the focus in the meantime. These include proactively working with policy-makers to develop economically viable business models, remove barriers to deployment, develop visions, quotas and even subsidies, and to incentivise cross-sector collaboration between supply and demand to find solutions. This will in turn contribute to de-risking of investments, and foster infrastructure investments and cooperation between different players on the production and demand side. In the short term, political engagement, an industrial symbiosis, public visibility, sustainable business cases and adequate regulatory frameworks are needed for scale-up.
Power-to-X charter?
One of the interesting ideas coming out of the P2X Innovation Forum was creating a "P2X Charter". This would be a charter affirming commitments from producers and consumers of P2X; whether that's a company committing to producing hydrogen through P2X or a country committing to purchasing synthetic fuels produced via P2X processes the charter would be a non-binding commitment to signal firms and government interest in establishing international P2X markets. We would like your input regarding this topic. Do you think the Council is in the best position to push this charter forward and make it a reality?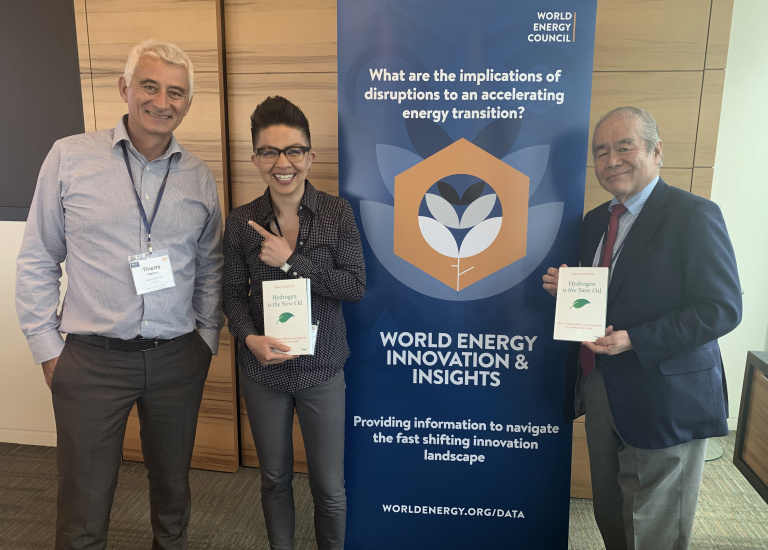 Next steps
This Innovation Forum set the foundations for the creation of an international working alliance on P2X. The biggest opportunities for creating an international P2X market are: i) trading clean energy in the form of gases or liquids; ii) developing a long-term energy storage solution, and iii) decarbonising sectors which electrification cannot reach cost-effectively. P2X needs to overcome several challenges, including the lack of policy engagement and more generally, awareness around the topic. The development of cost-effective transport solutions and the involvement of incumbents will unlock opportunities for P2X globally. Working with its 90+ Member Committees, the World Energy Council will continue to work in this area by:
Facilitating an international alliance to promote international coordination on P2X, and

Working with the private and public sectors to develop clear P2X commitments.
We would like to thank two of our Future Energy Leaders Dr. Alena Fargère and Dr. James Carton, Christoph Menzel, Robin Höher from our German Member Committee, as well as our hosts Norton Rose Fulbright: Peter Hall, Christian Bauer, Kathryn Emmett, Penny Cygan-Jones and Carole O'Brien for their valuable contribution in the organisation and facilitation of this event.
To actively engage in this discussion, please contact Pauline Blanc at
blanc@worldenergy.org
.