Singapore Power, a leading utility in the Asia Pacific region, has joinAed the World Energy Council as a direct member. The company is the Council's second direct member after the Dominican Republic's
Ministry of Energy and Mines
which joined in January.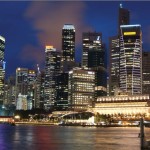 [Singapore skyline. Photo: Timobalk / freeimages.com]
The direct membership with Singapore Power, established in February, is the first step for the Council towards establishing a member committee in Singapore. Together with the Council, Singapore Power will explore and develop a roadmap to forming a member committee. The member committee would be a platform for relevant stakeholders to share and exchange key matters related to the power and energy environment in Singapore and the region.
Organisations in countries where the World Energy Council does not yet have an active member committee may now join the Council under a direct membership. This is a scalable engagement process for individual companies or organisations that provides them with access to the World Energy Council's network, work programme and events.
Singapore ranks 41st in the 2014 Energy Trilemma Index and has a balance score of BBD. Its ranking can be found
here
.