Leading figures within the African energy scene convened at the 10th Annual Africa Energy Indaba, the World Energy Council's annual African regional meeting.
This year, the event on 19 -21 February, provided a unique platform to hear from global experts over four days of networking and high-level debate on key issues keeping Africa's energy leaders awake at night.
[caption id="attachment_21540" align="alignleft" width="244"]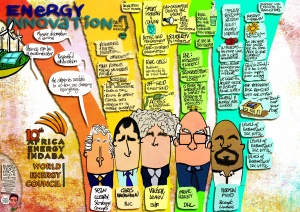 Images by Roy Blumenthal[/caption]
The week also offered an ideal framework for participants to network and find solutions for Africa's energy challenges during a high-level Energy Leaders' Dialogue.
During the leader's dialogue discussions focused on energy sector innovations in Africa exploring near and long-term prospects for technological advancements such as blockchain, where decentralisation and digitalisation plays a more prominent role within the continent.
Dr Elham Ibrahim, Regional Vice Chair for Africa, World Energy Council, said: "Innovation and collaboration are key drivers for the grand energy transition. Africa has forged close ties with many countries and regional and multilateral entities to further develop collaborations. The goal is to identify opportunities to further promote innovation."

Additional discussions explored the role the private sector can play in supporting policies that drive innovation and financing of energy systems in Africa.

Investment in energy infrastructure and development finance is currently aligned across key players such as the African Union, NEPAD and the African Development Bank, who all recognise the scale of the investment challenges and who look for a resolution to the mispricing of risk by the markets.
Dr Angela Wilkinson, Senior Director, Scenarios and Business Insights, World Energy Council, commented: "There are inspiring stories coming out of Africa that highlight business models for rural energy access that successfully combine innovative approaches to data, finance and renewables. The African continent is an integral part of the fast shifting global energy landscape and African countries have not only big hopes and enthusiasm for the energy future, but also the potential for energy transition leapfrog developments and successful regional energy integration."

Other key speakers included Amadou Hott, Head of Energy, the African Development Bank Group; CEO of Bboxx, Mansoor Hamayun and Viktor Polikarpov, Regional Vice-President, Rosatom, Africa.
Mr Polikarpov, commented: "We are working with 11 African countries to use nuclear as a source sustainable part of the energy mix. We re not renewables, but support renewables."

The Council also hosted its first Africa Regional meeting for 2018 as well as a workshop focussing on its World Energy Scenarios work, which envisions scenarios to 2060. The interactive workshop captured the reality of the energy world from a Sub-Saharan African perspective, and provided an opportunity for strategic knowledge sharing on the long-term energy outlook.

The regional meeting provided the opportunity to hear from the Council's African member committees on topics related to their activities and plans for 2018. Key presentations centred on the 2018 Africa region Issues Monitor map and the Council's Energy trilemma report and Trilemma Index from an African perspective.

The Indaba attracted around 1000 delegates. Additional side events included: the Women in Energy Conference, Africa Gas Forum and the IPP/PPA Conference.

The official opening of the conference on "Africa's regional pathways: resilience and regional integration" was moderated by Dr Wilkinson, with Dr Ibrahim among the panellists.

Comments
No comments have been posted