A low-carbon future is not only linked to renewables; carbon capture, utilisation and storage are also important and consumer behaviour needs to change, energy leaders heard at an event of the Council's South African member committee in Johannesburg last month (24 February).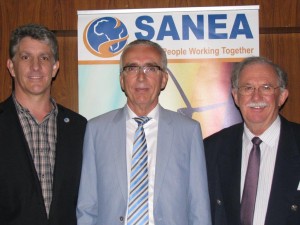 [From left: Brian Day, SANEA Managing Director; Hans-Wilhelm Schiffer, guest lecturer; Brian Statham, SANEA Chair]

In a talk titled, "German energy policy: its impact nationally and across Europe", Dr Hans-Wilhelm Schiffer explained the steps leading to the current energy transition in Germany and its central elements. Schiffer is Executive Chair of the Council's World Energy Resources work and also serves as consultant and advisor to the executive board of RWE, Germany's second-largest utility.

Brian Statham from the member committee, the South Africa Energy Association (SANEA), said:
"The delegates were very interested in the impact on the electricity tariffs brought about by the inclusion of renewables in the energy mix. They were quite surprised at the willingness of the consumers to accept these charges. Delegates were also intrigued that Germany is now likely to introduce a bidding system for new renewables, similar to the process already being implemented in South Africa."
Dr Schiffer's talk draws on a report last year which analyses and compares the energy transitions of several countries including South Africa. The report, "Global Energy Transitions", was produced by the Council's German member committee and the consultancy AT Kearney, and can be downloaded from
http://bit.ly/1wj9SH5
.
See Dr Schiffer's presentation
here
and full text of his talk
here
.
The next SANEA talk
will be a lecture by Prof Dr Tobias Bischof-Niemz, who manages the energy office of the Council for Scientific and Industrial Research (CSIR), on the topic "financial costs and benefits of renewables in South Africa in 2014". It will take place on 24 March in Johannesburg.
SANEA Energy Awards 2015
SANEA will collaborate again with the South African National Energy Development Institute (SANEDI) this year in recognising South Africans and their achievements, specifically in the research and innovation sectors. SANEA invites nominations for its 2015 SANEA Energy Awards. Award nominations must reach the SANEA office by close of business on Thursday, 30 April 2015. Nominations will be evaluated by a panel of judges appointed by the Executive Committee of SANEA. For more info visit the SANEA website.
Comments
No comments have been posted