President Juan Manuel Santos of Colombia gave the following speech at the World Energy Council's World Energy Leaders' Summit in Cartagena, Colombia on 23 October 2014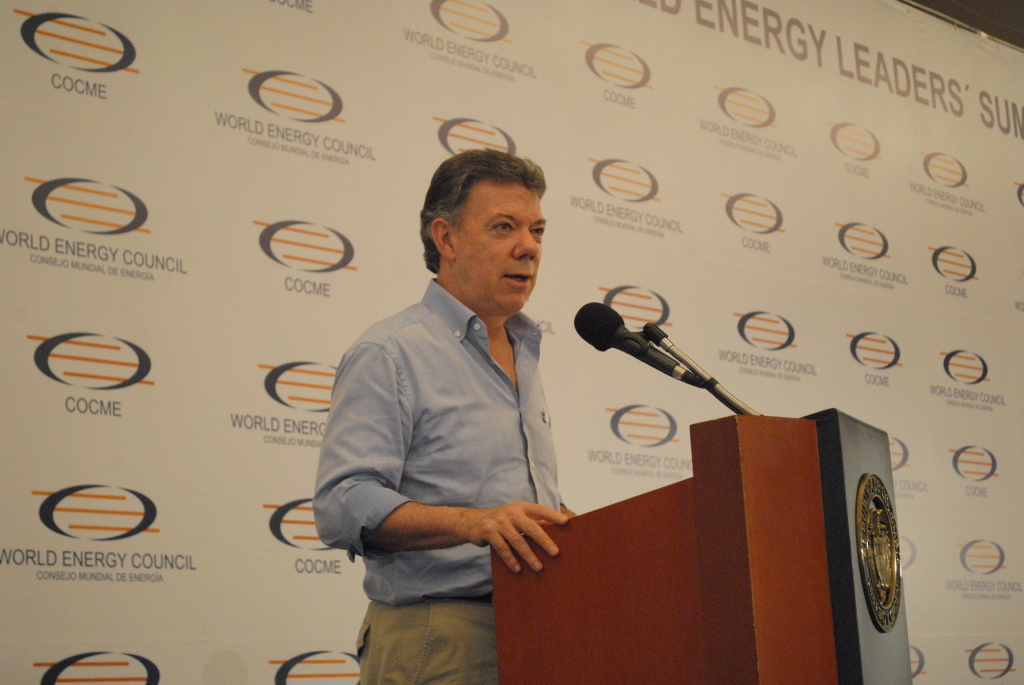 There's an old African proverb that goes, "If you think education is expensive, try ignorance".

I am quite convinced that a similar, very similar, phrase could be applied to the case of energy:

If you think poverty is expensive for development… try lack of energy!

Today it is a source of pride and pleasure for me to welcome you, the energy leaders of the world, here on our Colombian soil – in the beautiful city of Cartagena – to talk about energy, progress and quality of life. Because these words are closely related to one another.

Energy can transform a country, and Colombia is a prime example of this.

We are a different country today. And if we achieve peace we will be even more different.

We have gone from being considered almost a failed state a decade ago to becoming an emerging star in the hemisphere.

In a world that is suffering a fall in economic activity, Colombia is growing almost 2 points above the regional average.

We are in fact growing more than the whole of the rest of Latin America and we are one of the five economies in the world with the highest growth during the first half of this year.

Last year we reached the highest figure for direct foreign investment in our history – nearly 17 billion dollars – and, along with Chile, we have the lowest inflation in the entire continent.

It has been worth all the effort, because this positive period for our economy is bringing development and wellbeing to all Colombians. Because growth per se doesn't mean a thing if it doesn't result in wellbeing for the population.

In the last four years we have created two and a half million jobs. We have been reducing the unemployment rate month after month for 49 consecutive months, and today we have the lowest level of unemployment for many decades.

Moreover, we have taken three and a half million people out of poverty – a reduction of nearly 10 points, which had never been achieved before in four years – and we have taken two million out of extreme poverty.

And I have to tell you that these achievements, these highly significant achievements, have been intimately linked to energy.

Since the beginning of my government in 2010, it has been my obsession that energy – and I said so – should work to reduce poverty and generate employment.

And this is only possible if we ensure that the investment is there to create the projects which in turn generate the taxes, resources and royalties to fund social investment.

It is only possible if we give access to energy to our compatriots, to those Colombians who do not have it.

And it is only possible if we can guarantee a reliable energy supply that is also competitive for businesses.

And fortunately the figures are encouraging.

The production of crude oil and gas is for example, in our case, at historic levels... at the highest historic levels.

In terms of crude oil in three years we went from producing a little over 750 thousand barrels a day to an average of 1 million barrels. And at the same time we have managed to maintain the level of our reserves, although we need to make greater efforts to ensure these reserves are maintained in the future.

We are producing nearly 1,100 million cubic feet of gas per day – almost 10 per cent more than we were producing 4 years ago.

And we have managed to maintain the contribution of our coal. We are in fact one of the world's top five coal exporters.

On the electrical energy front, we are also meeting demand adequately and securely – two key concepts.

With the generation capacity we currently possess, our domestic demand is secure until 2020. We have a reliable system which has enabled us to maintain supply in spite of adverse climatic phenomena such as El Niño, and we are promoting the transmission lines with Panama and with the south of the continent as far as Chile, in order to exploit our electricity potential and provide the region with competitive energy.

And the best thing is that we are doing this with a clean electricity matrix, based 80 per cent on hydropower.

These projects and this increase in production have meant that the energy sector contributes – as never before and like no other sector of the economy – with taxes, profits and royalties, to the funding of transport infrastructure projects, education, housing, basic sanitation, and health.

And all this has in turn raised the living standards of very many people, millions of Colombians.

In Colombia, more energy has literally been synonymous with less poverty.

We are talking of sufficient resources – this year alone – to fund nearly 70 per cent of the national government's investment budget.

I will give you two examples that help us to understand the magnitude of these figures.

In just one month the energy sector generates enough to pay for an entire year's running of our flagship social programme, Families in Action (Familias en Acción). This conditional cash transfer programme benefits nearly 3 million families who meet certain criteria: they must have children at school and attend check-ups at healthcare centres. And this programme has been essential in reducing poverty.

In a year the sector generates enough to pay for an entire year's public education from preschool (Grado Cero) to university education. And there are enough resources left over to fund several years of environmental investment, which is so important for our country.

The sector has also strengthened in terms of energy for the poorest people.

In the last 4 years almost a million and a half families have had access to natural gas for the first time. Families who today spend a lot less on energy and use in their daily lives a safe, reliable fuel that is also more environmentally friendly, because before what they did was go into the forests, cut down trees and burn wood.

We have managed to increase rural coverage significantly. By the end of this year, 38 of the 39 municipal capitals of the country's poorest and remotest regions which did not previously have it, will now have service 24 hours a day.

We think we are moving in the right direction and the figures back this up: Colombia came 24th – out of 129 countries – in the Energy Sustainability Index of 2013, compiled by the World Energy Council.

And yesterday we received the excellent news that we have improved in this year's ranking by 8 positions … In terms of energy sustainability we rank 16th in the world.

We also remain in fifth place in terms of energy security and fourth in energy sustainability.

We believe that the foundation of all these achievements has been a serious energy policy, focused on the long term and built on the realities and needs of the country, always bearing in mind the international environment, of which we are inevitably part.

We also have a Congress of the Republic (Colombian national legislature) – and here is its President – with which we coordinate well to ensure that the policies approved in Congress through laws are sensible policies that look to the long term.

So we feel very proud that an institution as important as the World Energy Council should say in its annual report that Colombia is a country that has "demonstrated what can be achieved thanks to well-conceived and well-executed policies".

We share the pillars of the so-called energy trilemma and we consider it to be a very valuable roadmap for us to continue strengthening our energy sector.

However, we must all – and I am speaking about the whole world – be aware that guaranteeing energy sustainability is a shared task.

Our success depends on this – on us all working together.

Energy security – which is the first pillar of the trilemma – is perhaps the most critical point.

It is estimated – and you know this better than I do – that energy demand at global level is going to grow by 61 per cent by 2050, and that the world is going to have to invest 25 trillion dollars in electricity generation alone.

We have – and I am talking about the whole world – the challenge of developing projects and generating regulatory frameworks that are sufficiently attractive for private players to make the necessary investments to meet energy demand.

In this respect, we also share the view of the World Energy Council that different types of energy can contribute to guaranteeing energy security.

Of course it is not a case of generating energy no matter what, or in any way at all; and this is where the environmental consideration comes in – which is the second pillar of the trilemma – and it is a fundamental principle.

A law has already been passed in Colombia to exploit our enormous potential in non-conventional renewable energy sources and make more room for them in our energy basket.

The conditions are there for us to gain the greatest possible benefit from biomass, and from wind, geothermal and solar energy, and this is what we intend to do.

In the Government we are guided by three principles in our decisions with regards to energy: reliability, competitiveness and cleanliness.

And true to these principles, our country has never been so close to achieving this necessary but complex balance between sustainable development and care for the environment.

And this is particularly important and sensitive in Colombia, because we are a country with immense environmental riches. Our country has the highest biodiversity per square kilometre on the planet and at the same time we have many energy resources.

The big challenge is of course how to combine these two riches and how to preserve them and exploit them property.

With regards to the third axis of the trilemma – equity – the challenge at world level is also immense: 1,500 million people around the planet have no access to modern sources of energy.

And there is no more expensive energy than the energy you do not have!

And it is a very high price in terms of development, in terms of competitiveness, and in terms of quality of life.

I remember once that I went to a very, very poor village on the Colombian Pacific and took energy to them. At the time they treated me as though Jesus Christ had come, simply because they could turn on a light bulb and have a fridge in which food could be preserved.

The change of life is enormous for someone who has never had energy and now has it.

Hence the importance of governments working side by side with a sector as important for any country as the energy sector.

In Colombia's case, this sector is the most important partner for consolidating a vision that I put to my compatriots last August, when I took up my post in my second term of office: a Colombia at peace, a fairer Colombia and a better educated Colombia.

And so we are setting the energy sector three tasks for between now and 2018.

The first, very necessary, task is to generate resources to pay for the investments that are going to be needed to finance this peace, this post-conflict period; to fund education and to continue funding the social policies that enable us to fight inequality.

And to do this we need more energy infrastructure projects to be developed, and for this to be done well and to be done appropriately.

We are going to continue consolidating an institutional and regulatory framework that respects communities, respects and protects the environment, but also guarantees investment and development.

We are constantly seeing successful examples, and we want always to be as close as possible to the state of the art in combining these elements.

We need to give a big boost to the so-called "hydrocarbons of the future" – such as non-conventional reserves and offshore exploration – and new energy sources, as well as enhanced recovery projects.

The second task that our energy sector will have over the next four years is related to extending the coverage of energy services to nearly 500 thousand, i.e. half a million users.

Nothing reduces poverty – an obsession of mine – like access to energy!

And a third task is to ensure that the economy has competitive energy so that this economy can grow, can create jobs and can generate resources.

And this can only be achieved through appropriate, modern regulation that includes aspects such as the sale of surplus self-generated electricity to the national grid and active, intelligent handling of demand.

The development of end-use efficiency programmes is also required.

Colombia can, for example, make savings of up to 13 per cent on this front, and I think we are making progress towards this and we must improve further.

Dear friends of the World Energy Council:

The presence of delegates from over 60 countries at this Summit – 20 of them represented by energy ministers – is a demonstration of global willingness to continue supporting the principles of energy sustainability.

It is also – and we welcome and acknowledge it as such – recognition of the work we have been doing in Colombia to articulate the development of the sector with the fight against poverty, with the generation of prosperity and wellbeing for our citizens, which I think is the parameter for every country.

We have done a great deal and we feel proud of this, but we know that there remains a huge amount still to be done.

We have a lot to learn from you and we have valuable experiences to share.

So I am very pleased to be here with you today. Welcome to this historic city and welcome not only to the Colombia of today, but also to the Colombia of tomorrow. To this new country that nearly 48 million Colombians are building, together with the support of an energy sector that is ever more dynamic and strong.

Let us together conquer a planet that can provide energy for its growing population and at the same time preserve the environment that enables us to enjoy it.

Thank you very much.