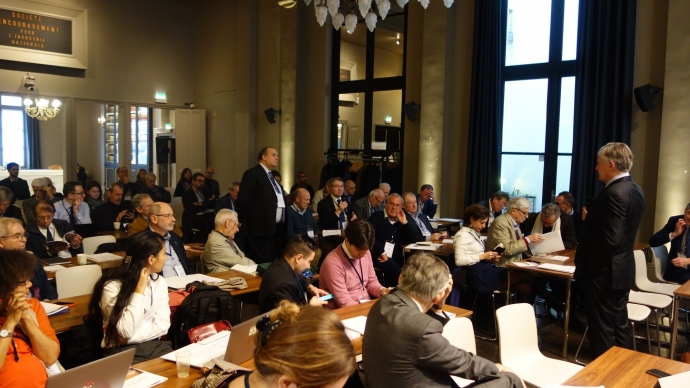 On 29 November, The Conseil Français de l'Énergie held a seminar in Paris on the key messages from the 24th World Energy Congress, which took place in Abu Dhabi from 9-12 September 2019.
The seminar was opened by the Council's new Chair, Jean-Marie Dauger, who shared his impressions of the event and the energy sector players in attendance. His key takeaway was the optimism expressed about the possibility of finding appropriate solutions and, above all, their willingness to participate in the immediate translation of political ambitions into concrete actions – even without a depth of concrete aspects of the exchanges. He added that energy stakeholders are well aware of the challenges - and even contradictions - that need to be addressed.
Four studies were presented by study contributors: The European scenarios and their three possible pathways (Modern Jazz, Unfinished Symphony and Hard Rock) were described by François Dassa from EDF; the role of the nuclear in the world energy scenarios, published by the World Energy Council, was explained by Philippe Costes from the World Nuclear Association; Pauline Blanc from the World Energy Council presented on the new hydrogen economy, its role and the current questions raised, during workshops organised by the Council; and finally Jean Eudes Moncomble from the Conseil Français de l'Énergie focused on the evaluation of energy policies thanks to the Trilemma and its new methodology.
Three young professionals, who had been invited to participate in the Congress by the Conseil Français de l'Énergie, shared their vision for the future, highlighting what interested them the most: digitalization, consumer/citizen behaviour and collaboration among others.
It was on this occasion that the report published by the Conseil Français de l'Énergie was launched, which includes the highlights of the Congress and in particular the interventions of the French speakers: "24e Congrès Mondial de l'Énergie à Abu Dhabi" but also the following reports, translated into French: Trilemma, European scenarios and Nuclear scenarios.
Presentations of the speakers are available on WEC France's website: http://wec-france.org/colloque29nov.php