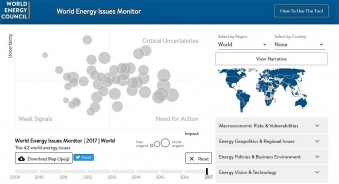 A new survey highlights shifting priorities in the energy sector with an accelerating transition towards digitalisation, decentralisation and decarbonisation. On a global scale, innovative technologies such as energy storage, renewable energies and market design are impacting top action priorities for energy leaders globally in 2018.
In its ninth year, The World Energy Issues Monitor 2018: 'Perspectives on the Grand Energy Transition' published by the World Energy Council, through an analysis of critical issues affecting the energy system, provides nine global, six regional and 38 national issues maps, as well as a dynamic
interactive online tool
.
The World Energy Issues Monitor Tool presents in one place dynamic map views of the decade of Issues Monitor data that has been collated by the World Energy Council. The maps convey a narrative of the key energy issues, regional and local variances and how these have changed over time. The tool allows the preparation of different maps for comparison and allows for the manipulation of data by geography, over time, or by highlighting of specific energy issues.
Blockchain technology is ranked high in impact and uncertainty within every region identified in the survey of more than 1,200 energy leaders in 95 countries. This is in addition to a survey issued to more than 100 innovators earlier in the year, launched at the
2018 Start-up Transition Energy Award
in Berlin,16 April.
Dr Christoph Frei, Secretary General of the Council said: "Our Issues Monitor is key to the Council's transition toolkit, providing unique global, national and regional perspectives into issues central to the energy transition. It provides a snapshot of the current priorities, keeping energy leaders awake at night and busy at work. We are seeing an important shift in policy and strategy priorities: innovative transport, decentralisation and digitalisation have continued to trend upwards, while centralised technologies such as coal and CCS continue to decline as priorities for energy leaders."

Other key findings in 2018 include:
Renewable energies are ranked high in terms of certainty and their high potential to compete with traditional fuels across the world

Data Artificial Intelligence and mobile cloud are enabling the rise of the prosumer as new actors such as tech companies are entering the energy system

Digitalisation and cyber threats are perceived as a priority among energy leaders in OECD countries in comparison to non-OECD countries

Fossil fuels remain an important part of the world's global energy mix despite many countries increasingly incorporating clean energy policies
The interactive toolkit was launched in Copenhagen at the 9th Clean Energy Ministerial on 23 May, followed by further presentations at regional events being held.
Ian Gardner, Global Head of Energy, Arup, commented: "Arup recognises how challenging the times ahead are for energy markets across the world and we are pleased to be involved in the launch of the improved Issues Monitor. Our specialist digital team has developed the new online tool which will allow the Council and its stakeholders to access, ask questions and report on all aspects of the data that it has gathered that has previously been unavailable. By making this more accessible, we make the data more valuable and useable and therefore enabling better decision making for governments and organisations. We are delighted to be supporting this thinking which can improve energy usage across the world. Energy and digital cannot be considered without the other and using data and technology to inform better energy decisions is a great programme to be involved in."

Dr Frei commented: "The survey illustrates much alignment for most priorities and some significant differences against the context of the grand energy transition between innovators, and energy leaders at a global, national and regional level."