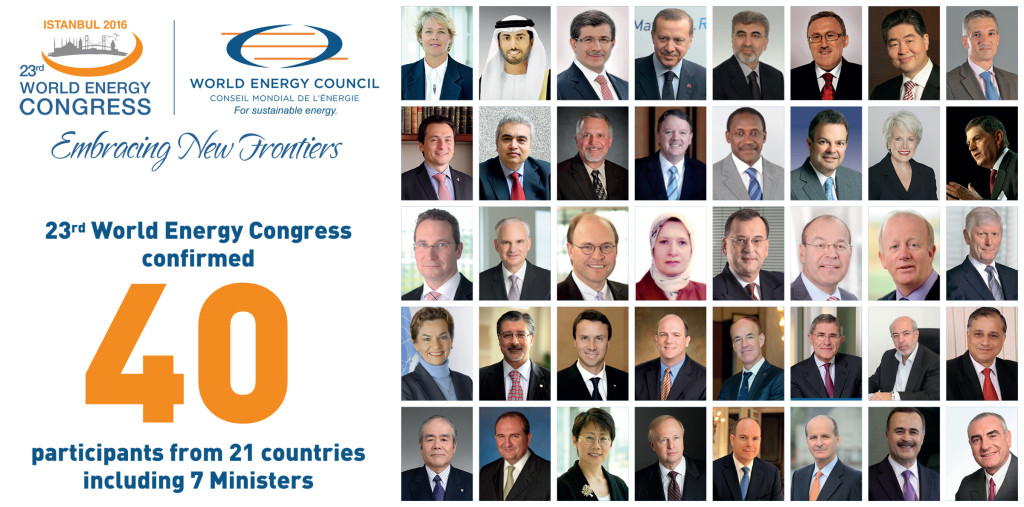 First 40 high level speaker names released
The World Energy Congress today announced the first list of over 40 confirmed speakers for the
23rd World Energy Congress
, "the Energy Olympics", taking place in Istanbul on 9-13 October 2016.
Over 100 government ministers, heads of states and 10,000 senior energy leaders will be attending the Congress under the theme of "
Embracing New Frontiers
".
Turkey's Energy Minister, H.E Taner Yildiz said
: "By bringing together the world's energy leaders, different cultures and people from around the world at the World Energy Congress in Turkey, we intend to set the global energy agenda. The world's energy pulse will beat from Turkey at the 2016 World Energy Congress and shine a light on global energy problems."
The Turkish President will be opening the Congress with 70 sessions exploring energy issues that have an impact on economic growth and competitiveness, energy access, environment, political integration and regional dynamics. It is the World Energy Council's premier energy event that is held every three years and represents more than 3,000 member organisations including governments, industry, international organisations and non-profit groups.
Christoph Frei, Secretary General, World Energy Council, said
"Energy frontiers are shifting in a dramatic way and many of the challenges are more daunting today than ever before. The climate challenges need a post COP21 way forward - energy access is more recognised than ever as a key development enabler. Extreme weather and cyber risks are putting the energy system at risk today and innovation has changed the energy sector in the last 10 years more than in the 40 years before that.

"The challenge the world faces is that half of the world's GDP needs to be invested over the next two decades if we are to secure a sustainable energy future and Turkey is in a unique position to provide the right context for critical policy dialogue, sharing of best practices and technology innovation."
The first 40 keynote speakers coming from 21 countries and including 7 Ministers are confirmed for the
23rd World Energy Congress
include:
Recep Tayyip Erdoğan, President, Government of Turkey

Ahmet Davutoğlu , Prime Minister, Government of Turkey

Elham Mahmood Ahmed Ibrahim, Commissioner Energy and Infrastructure, African Union, Ethiopia

Hamid Chitchian, Minister of Energy, Government of Iran

Prince Albert II of Monaco, Prince Founder Government of Monaco

Taner Yıldız, Minister of Energy and Natural Resources, Government of Turkey

Suhail Mohamed Al Mazrouei, Minister of Energy Government, UAE

Fatih Birol, Chief Economist, IEA

Christiana Figueres, Executive Secretary, UNFCCC

Marco Lambertini, Director General, WWF International

Bob Dudley, Group Chief Executive, BP

Gerard Mestrallet, Chairman and CEO, ENGIE

Emilio Lozoya, Chief Executive Officer, Pemex

Amin H. Nasser, Acting President & CEO, Saudi Aramco

Johannes Teyssen, Chairman and Chief Executive Officer, E.ON

Lisa Davis, Member of the Managing Board & CEO, Energy Sector, Siemens
The names of more speakers who share a focus on addressing the major issues affecting the global energy sector today and in the future will be released on a regular basis.
For more information about the World Energy Congress 2016 and to register, visit:
http://wec2016istanbul.org.tr/