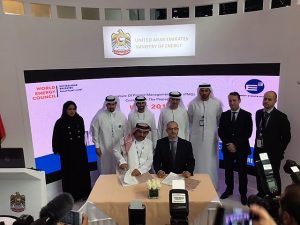 His Excellency Eng Suhail Al Mazrouei, United Arab Emirates Minister of Energy and Chair of the Council's UAE national member committee, recently signed the project management office (PMO) contract with Energy Events Experts, to support the work of the committee and ensure the smooth delivery of the 24th World Energy Congress to be held in Abu Dhabi in 2019.

The 2019 World Energy Congress will take place between 7 and 14 September following a successful international bid that Abu Dhabi won in 2014, following a vote by the World Energy Council's member countries in a meeting held as part of the Council's annual Executive Assembly in Cartagena, Colombia.
"When the UAE decided to enter the bid to organise the 2019 World Energy Congress, it did so with the vision to deliver the best congress in its more than 90 years of history," said HE Al Mazrouei. "Today, we appoint the experts that will ensure that the vision for success of the 2019 World Energy Congress is delivered."

"The planning and execution of a global event of this magnitude requires sophisticated organisational and execution skills, as well as an in-depth understanding of the energy sector", said HE Dr Al Neyadi, undersecretary of the ministry of energy and Chair of the organising committee, who was also present at the signing."

"We conducted a thorough process to learn the key lessons of preceding congresses and identified a need to bring an experienced PMO to support the complex work to coordinate thousands of energy stakeholders from around the world, as well as a multifaceted group of event-related organisations. Appointing the PMO three years in advance will ensure the efficient and viable delivery of the best World Energy Congress in the history of the World Energy Council," added HE Dr Al Neyadi."
The 2019 Abu Dhabi World Energy Congress will be the first congress to take place in a Gulf State, and the UAE will be the first OPEC country to host such an important event for the global energy sector.
The triennial World Energy Congress is the premier international, multi-energy forum to better understand energy issues and solutions from a global perspective. As the World Energy Council's global flagship event, this gathering enables dialogue among Ministers, CEOs and industry experts on critical developments in the energy sector and provides a unique opportunity for executives to display their technologies and explore business opportunities.
Under the theme
'Embracing New Frontiers'
, the
23rd World Energy Congress
recently took place in Istanbul, Turkey from 9 – 13 October 2016. The Congress convened some 266 world class speakers from around the world, including over 60 government Ministers and Heads of State. In total, some 5000 delegates gathered in Istanbul from over 150 countries to an engaging week of sessions exploring the Grand Transition of the energy sector.