We are going through a revolution in the energy business", the U.S. Secretary of Energy Ernest Moniz said addressing the release of the Obama Administration's Quadrennial Quadrennial Energy Review.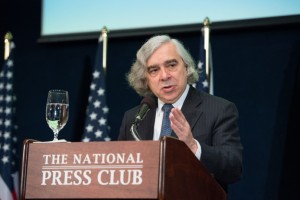 [ Secretary Moniz opens the United States Energy Association's (USEA) Public Policy Forum in Washington, DC., addressing the Quadrennial Energy Review.]

The Review highlights the Administration's recommendations and commitment to modernize the U.S. energy infrastructure, create a clean economy, combat climate change, and increase U.S. reliance on domestic energy resources.
Secretary Moniz opened the United States Energy Association's (USEA) Public Policy Forum (30 April) in Washington, DC. The USEA is the U.S. member committee of the World Energy Council and the Annual Membership Meeting and Forum it convened are recognized as one of their premier energy events in the USA bringing together over 150 members of the energy community, media, local embassies and government agencies to receive information on the latest developments within USEA and to hear from leading energy experts on the latest issues and policies impacting the energy sector.

Philip Moeller, Commissioner of the Federal Energy Regulatory Commission (FERC) shed light on the future of the Commission under its newest chairman, who wants to engage commissioners much earlier in deliberative processes on important matters. He further referenced changes affecting the power industry and imminent challenges due to expanding power markets and the retirement of coal-fired plants due to U.S. EPA emissions regulations.

Senior Vice President of Government Affairs & Public Policy for Exelon Corporation, Joe Dominguez highlighted the importance of clean energy and implementing a carbon dioxide variable cost in the market for meeting reliability.

After the World Energy Council's Secretary General Christoph Frei had shared insight on current world energy issues and the Council's major initiatives, Stephen Burns, Chairman of the United States Nuclear Regulatory Commission concluded the forum providing his thoughts on safe solutions in nuclear power generation.

The public policy forum also featured the 2015 annual award presentations. Senator Lisa Murkowski received the award in recognition of her tireless efforts to advance global energy initiatives and for her outstanding contributions in support of USEA's mission. Attendees were treated to a special video tribute in honor of the 2015 United States Energy Award Recipient Murkowski,
Susan Fritz, Acting Assistant Administrator – Bureau for Europe & Eurasia, U.S. Agency for International Development (USAID) and Kristen Madler, Clean Energy, USAID presented the 2015 Volunteer Service Award to Robert A. Carroll, Manager of Performance Management & Financial Planning, American Electric Power, Fouad E. Dagher, Director, Products & Energy Services, Customer Strategy & Environment, National Grid, and Carlos Quecan, Vice President, International Sales who accepted the award on behalf of Schweitzer Engineering Laboratories.
For more information on USEA click
here.
Comments
No comments have been posted