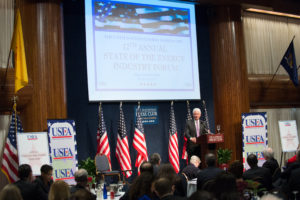 [ United States Energy Association 12th Annual State of Energy Industry Forum, 2016]
The United States Energy Association
(USEA), our US member committee held its Annual State of the Energy Industry Forum, for the 12th year running.
Designed to coincide with the U.S. State of the Union Address, and widely regarded as one of USEA's leading events, the forum held at the
National Press Club
in Washington, DC, brought together leading executives in the energy industry to exchange ideas and present information on major cross-cutting issues facing the energy industry in 2016.
Over 200 registered participants were represented, which included USEA members, the Washington energy policy community, NGO's, federal, state and local government agencies, foreign embassies and members of the press.
Speakers addressed a variety of topics, including the creation of thousands of jobs for Americans in the natural gas industry; natural gas pipeline safety; the economic and environmental benefits of the shale revolution; the new era of LNG exports; and electricity providers working to build a modernized, strong, resilient power grid in the United States.
Speakers at the event included Jack Gerard, President & CEO – American Petroleum Institute; Chet Thompson, President – American Fuel & Petrochemical Manufacturers; Dave McCurdy, President & CEO – American Gas Association; Dena Wiggins, President & CEO – Natural Gas Supply Association; Donald Santa, President & CEO – Interstate Natural Gas Association of America; Tom Kuhn, President – Edison Electric Institute; Marv Fertel, President & CEO – Nuclear Energy Institute; Hal Quinn, President & CEO National Mining Association; Susan Kelly, President & CEO – American Public Power Association; and Rhone Resch, President & EO – Solar Energy Industries Association.
Comments
No comments have been posted