The WEC African Regional meeting took place at the Sandton Convention Centre of Johannesburg, South Africa, on 28th February 2011. The meeting was hosted by SANEA, WEC MC of South Africa; and chaired by Prof. A. S. Sambo, WEC Vice Chair Africa Region and Chairman of Nigerian National Committee of WEC.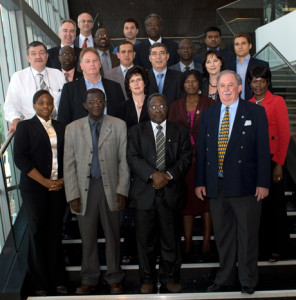 The following WEC Member Committees were represented: Algeria, Democratic Republic of Congo, France, Korea, Namibia, Nigeria, Romania, South Africa and Swaziland.

WEC Secretariat was represented by: Dr Christoph Frei, Dr Latsoucabé Fall, Prof Karl Rose and Mr Philip Thomas.

Key presentations were done by:

Dr Frei on "World Energy Agenda, Challenges, Policies and Strategies" - focusing on WEC's activities areas - 2011 focus areas - Knowledge Networks and Study Groups - Strategic Insight - WEC Issues Survey, etc.

Dr Fall on "Africa's Issues Map & Priorities for the Energy Sector - Perspectives from the African Dialogue in Montreal".

Matters for Information included: Montreal World Energy Congress & WEC EA2011 WEC EA, Oran, Algeria; WEC African Participation in WEC Knowledge Networks and Study Groups; WEC Mentor Scheme - African initiatives; New WEC Scenarios Study; and WEC Daegu 2013 Congress.

Matter for Discussion / Decision covered the following topics:
WEC Africa Regional Agenda for 2011+;

Nigerian National Committee of WEC (NNC-WEC) bid for hosting an Energy Leaders' Summit in 2012;

2012 - WEC Africa - LAC Bi-Regional Forum; and " Africa's contribution to the Global Partners Programme which come up with some proposals of GPs nominations around the Continent.