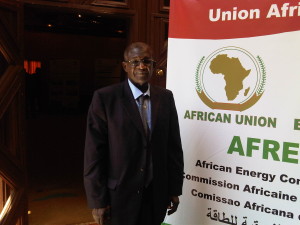 Developing energy skills and knowledge is crucial for Africa's long-term economic and sustainable development, said the World Energy Council on 3 September at a workshop on energy statistics skills training and capacity building, organised by the African Energy Commission (AFREC).

"Establishing and implementing comprehensive energy information systems and database is critical for energy system planning, long-term investment plans, sound energy policies and sustainable development," said Dr Latsoucabé Fall, WEC Regional Manager for Africa and a proponent of boosting Africa's energy skills base.

Dr Fall made the remarks in his keynote speech to more than 50 participants at AFREC's third Regional Training and Capacity Building workshop in Dakar, Senegal, on 3–5 September. The attendees included experts from AFREC's West African and North African national focal points, consisting of representatives from energy ministries, electricity utilities, regulators, regional power pools, regional economic communities, energy agencies and energy-related NGOs.

The workshop was aimed to help participants understand the crucial role of energy statistics in facilitating energy planning and building effective energy policies, while improving their skills in collecting, managing and using energy data and information. Training sessions were provided by staff from the International Energy Agency (IEA).

The Senegal workshop follows previous ones held in Douala, Cameroon, for the Central African region, and in Johannesburg for southern Africa earlier this year. They are part of the development of the African Energy Information System and Database (AEIS), which is set to become the first ever comprehensive source of energy data and information on Africa upon its launch by the end of November this year.

The AEIS database is aimed to support governments and industry on their decision-making on national and regional policy development and regional energy integration.

The WEC initiated the project in the early 2000's, drawing on the data collection methodology provided by the WEC Egyptian member committee. The WEC has since shared the responsibility for developing the AEIS database with AFREC and the IEA so that it covers the needs of all 54 countries of the African Union including non-WEC members. AFREC, which covers all Africa, leads the project, while the WEC also helps strengthen the data by encouraging its African member countries to provide input.

Along with launching the database, AFREC is also planning to establish five permanent regional energy training centres in Africa. One of these will be in Senegal and will be hosted by a national academic institution.