The WEC Iranian member committee's 10th International Energy Conference took place in Tehran from 26–27 August.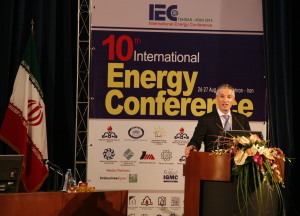 The event drew the widespread participation of academics, government officials, and experts under the theme of "Efficiency in Resource Management, Excellence in Energy Industry".
The conference was held in cooperation with and supported by the Ministry of Energy and Ministry of Petroleum, their affiliated companies, academic institutes, universities and other related organisations. It was formally held in the presence of H.E. Mr. Chitchian, Minister of Energy and H.E. Mr. Zangane, Minister of Petroleum, as speakers at the opening ceremony.
This event provided a forum for all researchers and experts to interact in different fields of energy, expand their research activities, and find solutions to the challenges facing the energy sector.
For the evaluation of papers submitted to the event, the conference secretariat had the privilege to have 100 preeminent national and international professors and experts involved in three technical/ scientific committees: on resource management; energy and economy; and energy technology and environment.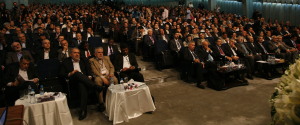 The event received 536 papers in Persian and 70 papers in English from the UK, Sweden, France, Portugal, Australia, Japan, China, Turkey, New Zealand, Cyprus, and Latvia. Among these, 60 articles were selected by the Scientific Committee for oral presentations; 100 for poster presentations; and 220 were accepted for publication in the conference proceedings. The best of these articles were selected for awards and publication in the Iranian Journal of Energy.
The conference had 1250 registered participants, from the Ministry of Energy, Ministry of Petroleum, OFID, MAPNA Group, TAVANIR, SABA, SUNA, Iranian fuel Conservation Company, National Iranian OIL Refining & Distribution Company, National Iranian Oil Company, National Iranian Gas Company, Electricity Development Organization, Iran Grid Management Company, Tehran Electricity Distribution Company, Tehran Regional Electricity Company, and other electricity, gas and oil companies. Many of these organisations & companies also sponsored the conference.
There were four technical roundtables: "
Energy financing in developing countries and fight against energy poverty with emphasis on OFID role"; "Renewable energy, alternative energy, and environment"; "Synergies of scientific associations active in energy and environment sector"
; and "
Smart grid and energy consumption management"
. These roundtables aimed to provide an opportunity for all scholars, researchers and experts to present their viewpoints.
There were also three workshops and an exhibition which had 20 companies participating.
Comments
No comments have been posted