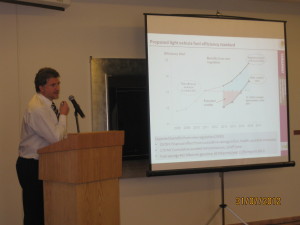 Members of WEC Mexico gathered to hear the latest on Mexico's strategy towards a low-carbon economy. Mexico's officials are developing the strategy to meet the country's carbon reduction goals as stated in its new law on climate change, introduced in June and to be enacted in October.

The law calls for a binding 30% reduction in greenhouse gas emissions by 2020, and a recommended 50% reduction by 2050, compared with 2002 levels under business-as-usual. One of the actions to be taken is that by 2024, 35% of electricity generated in Mexico will have to come from low-carbon resources.

At the event on 31 July in Mexico City, Dr Francisco Barnés Regueiro, President of the National Institute of Ecology for the Government of Mexico, presented a possible direction for the strategy. This strategy will be structured around three main elements: clean and efficient energy, sustainable cities, and land use. It will be supported by three key enabling systems: financing mechanisms, public policy instruments, and capability strengthening of skills and infrastructure. As examples, possible actions could include enacting a fuel efficiency standard for light vehicles and reducing current fuel subsidies.

The event raised an often cited question of who should bear greater responsibility for climate change.

Pablo Mulás, Secretary for WEC Mexico, said: "One issue that was repeatedly mentioned by some members of the audience is that it does not make much sense for Mexico to make a huge effort on emissions reduction if large emitters like the US and China do not also lower their emissions."

Mexico contributes less than 2% of the world's emissions. It is the first developing country, and only the second country in the world (after the UK – also a small emitter), to set a long-term legal framework towards carbon reduction targets.