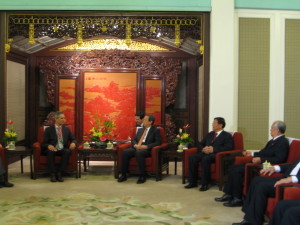 In an exclusive meeting with the former NDRC (National Development and Reform Commission) Chair and now State Councilor Ma Kai and with NDRC's first Vice Chair (in the position of an Energy Minister) Zhang Guobao, WEC's Secretaly General Christoph Frei presented the key findings of the recently published World Energy and Climate Policy Assessment. The recent crisis has underlined the importance of strong public policies and WEC's first version of the annually updated assessment provides a neutral benchmark for good policy measures.

Dr Frei highlighted the importance of long-term visibility of energy policy, pointed out that energy and climate policy are strongly intertwined and therefore should be governed by the same strong institution, and that the huge energy efficiency potential can only be harvested through a proactive dialogue with the public that raises awareness and ensures acceptability of relevant policies.

Councilor Ma supported these points and said that the long-term visibility was an ambition of the Chinese government and that energy and climate policy are already now directed under one roof by Minister Zhang Guobao. He also mentioned that the government made a big effort to increase awareness and promote change in the industry.

Today, China consumes 42% of the global coal production, which in turn supplies 68% of the Chinese primary energy. The government has strengthened regulations over the past years to increase security and quality of the coal industry, which has lead to the closing down thousands of smaller mines. However, the coal industry is still in oversupply.

Councilor Ma pointed out that CO2 and new/renewable energies are important issues. China has become a world leader in the wind, solar and hydro industry. Both, hydro and solar have overall capacity potentials of 400 GW in China. In hydro about 172 GW is harvested, in wind only 12 GW, the latter however with rapid growth. China's solar cell industry has made a contribution to the massive price decrease that brings solar closer to grid parity. President Hu Jintao has recently announced the objective of 15% (compared to today's 8%) renewable energies in China's energy mix by 2020. On the nuclear side, China plans 24 new reactors with an overall capacity of 25 GW.

China has a number of linked challenges that require strong policies: it needs a continued high growth rate to provide employment and continue its urbanisation. This growth has to be fuelled and coal is what is available in excess and at low price but at high cost when it comes to air pollution and greenhouse gas emissions. Finally, water is scarce, which adds an additional constraint to the interlinked economy and, which may put some pressure on thirsty energy forms including clean coal technologies.

Meanwhile, China's opportunities lay in its strong financial resources, which will make it an even more attractive partner in international joint ventures as much of the world will face a credit gap over the next few years. And with its huge renewable energies market and accumulated experience it may well soon be the World's key supplier for renewable energy technologies.