The WEC Scenarios Study Group has taken the Global Energy Scenarios project into its next phase following a workshop in London last week (27–28 September).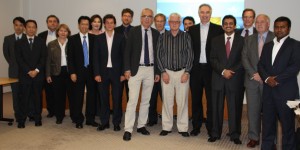 The first run of modelling, carried out by the scenarios modelling partner, Paul Scherrer Institute (PSI), has highlighted some initial key messages about the future of energy to 2050.

The workshop was held to discuss the first-run modelling results. These were based on the scenario stories developed through the expert insight and in-depth research carried out by more than 40 experts from the Scenarios Study Group.

The group, consisting of modelling experts, energy consultants, and top energy executives from five continents, discussed how a range of "critical levers" and emerging issues could inform the energy scenarios' storylines. These issues include carbon price, the cost of carbon capture and storage (CCS), and the future of gas as an important fuel in developing countries.

Dr Karl Rose, WEC Director of Studies, who is leading the scenarios project, said that the modelling has affirmed the validity of the scenario stories and its assumptions. "We checked, re-checked, and re-affirmed the scenario construct," he said. "[The workshop] confirmed that we have the right scenarios and the right input."

The group also identified areas needing deeper investigation – the role of gas in heavy road transport, nuclear energy for energy security in developing countries, and the development of renewables in the global energy mix.

The study team will use insights gathered from workshops involving the larger WEC community to refine the scenario stories and to develop strategic messages for policymakers and decision-makers.

The scenario study group will present some initial global messages to WEC member committees at the Executive Assembly in November this year. The study's final findings will be launched at the World Energy Congress in October 2013.

The workshop was chaired by the Executive Chair of Scenarios, Rob Whitney, who is also Chair of the WEC's New Zealand member committee.