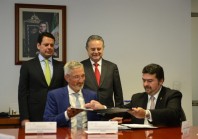 In a ceremony held in Mexico City on 22 August, Dr Christoph Frei, Secretary General of the World Energy Council and Pedro Joaquín Coldwell, Secretary of Energy, signed a joint declaration to support capacity building and talent development through the roll out of a new government training scheme offered to exceptional Mexican candidates.

The Memorandum of Understanding cements an agreement between the Council and Mexican government, to support capacity building of SENER's policy priorities specific to its energy systems, markets, and resources. It will include delivery of an in-depth exploration of Mexico's energy trilemma, consisting of three core dimensions: energy equity, energy security and environmental sustainability.
Secretary Coldwell said: "The internship will consist of a twelve-month work program in the UK, designed specifically for two Mexican interns, who will be part of the team working on Innovation and Policy within the Council. They will contribute to the research and analysis, generating tools and opinions, and developing relationships with the Council's experts, Member Committees, and partners."

While in Mexico, Dr Frei also presented a talk on the energy transition covering critical issues from a global, regional and Mexican perspective at the Tecnológico de Monterrey and Instituto Tecnológico Autónomo de México. He highlighted some insights delivered by the Council through its tools, research and engagement on innovation, scenarios for the global and regional energy landscape to 2050, policy challenges, and new business models to balance access, cost, and environmental sustainability.

He also invited bright and committed applicants interested in the Council's mission of sustainable supply and use of energy for the benefit of all, to consider applying to the trainee programme and joining the Council at its London Secretariat.
Dr Frei commented:
"We are delighted to work with the Mexican Government on talent development in the energy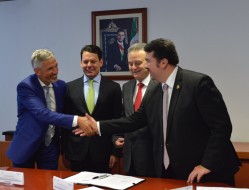 policy and innovation space and look forward to sharing knowledge, and best practices. The energy sector is facing many new realities and the unprecedented speed of change in technologies, risks and policy environment provides both challenges and opportunities for countries and energy companies within Mexico and beyond. Joint talent development in the space of energy policies and enabling frameworks is critical to continue and drive the reform of the energy sector in line with the shifting needs of the energy transition."