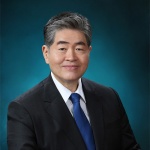 World Energy Council Chair, Younghoon David Kim, addressed delegates at the 2017 International energy Symposium, organised by the Korean member committee of the Council.

"As I begin, I would like to express my sincere appreciation to the Korea Member Committee of the World Energy Council for all their preparations for today's symposium.

"If one attends any one of the recently held energy conferences—whether they be international or domestic--one will find that each and every one features topics related either directly or indirectly to the energy Grand Transition. As the term "Grand Transition" suggests, this is not simply a matter of being a "change" but rather a situation in which we find ourselves in the midst of a deluge.

"The World Energy Council (WEC) presented its World Energy Trilemma 2017 report at COP 23 held in Bonn, Germany on 15 November.

"This report was written based on in-depth interviews and surveys with energy specialists from around the world. It offers insight into both the current state and future prospects of the energy sector. However, here in Korea there seems to be greater interest in the Trilemma Index which ranks each country.

The Trilemma Index each year evaluates countries on their energy security, environmental sustainability and energy equity. Based on these evaluations a comprehensive ranking system is published.

"On the one hand it is good news to read that Korea has risen from 44 to 39 in the overall rankings, however we still have a long way to go in terms of energy security and environmental sustainability. In addition, in comparison to the level Korea has reached in the global economy, Korea's Trilemma Index ranking leaves much to be desired.

"The Korean energy sector in general needs to be a bit more pro-active in its efforts to raise its ranking.

"I feel that it is more important to take note of the "3Ds" which are driving the energy Grand Transition, in other words: Decarbonisation, Decentralisation and Digitalisation.

"Previously I have noted the fact that a major trend in the global energy industry is its rapid transformation from a resource-based, capital-intensive industry to a knowledge-based, technology-intensive one. In the end the "3Ds" I just mentioned are part of this trend.

"The expansion of decarbonisation, decentralisation and, especially for the power sector, distributed generation are already such familiar concepts.

"However, if I were to elaborate on digitalisation, it would be to say that at every stage of energy production; storage, distribution, consumption, etc. the impact of digitalisation is changing marketplace dynamics. Of note is that energy markets are undergoing a fundamental change from producers being the most powerful players to consumers holding all the cards. Still, the fact that here in Korea this change has not been fully comprehended is somewhat regretful.

"In fact, due to their low percentage in our energy mix it is still difficult to feel the impact of renewables here in Korea while of the 34 OECD countries half—17 countries--have been able to attain more than 30 percent renewables in their energy mix.

"As is well known, solar and wind are not sufficiently secure sources of energy meaning that as the percentage of renewables increases this threatens the security of a country's own transmission system. Therefore, if we wish to harmoniously integrate a higher percentage of renewables within the energy mix this will depend on whether we can build the appropriate storage and transmission systems, which will in turn determine the success or failure of the energy Grand Transition.

"The technologies of new energy sectors such as ESS, smart grid, energy blockchain and predictive analytics systems are becoming the essential core of solutions found in EU countries, among others.

"In addition to being game changers, I believe these technologies have the potential to create new markets. In this sense, I believe it would be good to describe these as "disruptive" technologies.

"One example is the fact that currently many utilities have a linear relationship with their consumers. However, many experts predict that in the future with new and accessible platforms (similar to the way content is distributed through the internet) prosumers—not a central authority—will find easy, fast and cheap ways to trade energy.

"What makes this possible is are platforms like energy blockchain. That in itself is not only disruptive technology but also has the potential to develop into a huge distribution market.

"In an advanced economic system, just as distribution creates more added value than manufacturing does, I see in future energy supply chains the great possibility that the fulcrum will rest more on storage, distribution and consumption than on production.

"Korea, too, has announced an ambitious plan entitled "Implementation Plan for the 3020 Renewable Energy" to raise the level of renewables in its energy mix to 20 percent by 2030.

"Initially, we do need to focus on expanding the supply of decentralised energy such as renewable energy, but in preparation for the energy Grand Transition I believe we need to think more boldly and take an active interest in developing innovative technologies.

"This will allow us to find fresh opportunities in the new global markets that distributed energy systems will create.

"In order to accomplish this we will need the type of innovation that comes from the cooperation and integration of related fields including cutting edge developments in the energy industry as well as in the fields of ESS and IT. With the government offering flexible and enterprising policy guidelines, Korea can rise to become a leader in driving the energy Grand Transition.

"In this regard, the theme of today's symposium hosted by the Korea Member Committee of the World Energy Council—energy policy and the energy Grand Transition—is very significant.

"Through the wisdom gained from the foreign and Korean experts who are participating in this symposium, it is my hope that these valuable presentations and discussions will allow us to find the best and most appropriate new models for the energy Grand Transition.

"Once again, let me express my deep appreciation to all who worked so hard to prepare for this symposium.

"Thank you very much."
Comments
No comments have been posted