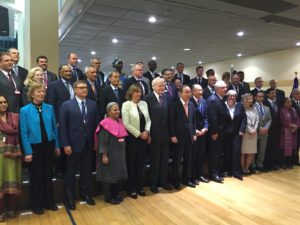 United Nations Secretary-General Ban Ki-moon and World Bank President Jim Yong Kim convened the fifth meeting of the
Sustainable Energy for Al
l (SEforALL) Advisory Board on 15 and 16 June.
The meeting, held in conjunction with the 10th European Development Days, was hosted by the
European Commission
at its headquarters in Brussels, Belgium.
Marie-José Nadeau
and
Christoph Frei
, Chair and Secretary General of the World Energy Council, attended the high-level meeting to help shape the definition of the new 'Strategic Framework for Results' of the SEforAll.
The new strategic framework would look at connecting stakeholders, marshalling evidence, benchmarking progress, amplifying the voices of partners as well as highlighting success stories.
The United Nations Secretary-General began the meeting by reminding the board that because energy is a key enabler for sustainable development, meeting the Sustainable Development Goal 7 (SDG 7) on energy is central to implementing both the 2030 Agenda and
Paris Agreement.
He stressed that the focus must now turn to actions which can accelerate these global agreements and that the establishment of SEforALL as a quasi-international organisation under Austrian law, led by
Rachel Kyte
as its CEO, would ensure continued momentum for action to catalyse new partnerships, new investments and new action.
Ms Kyte explained that the aim of the new SEforAll platform was to empower leaders to broker partnerships and unlock finance to achieve universal access to sustainable energy as a contribution to a cleaner, just and prosperous world for all and would be a key priority.
Jim Yong Kim
, Co-Chair of the initiative, emphasised the vital importance of living up to the commitments made by the world's leaders at COP21. He called on development partners to increase the climate finance needed to live up to the high expectations of the Nationally Determined Contributions and confirmed the role of the SEforALL as an important pillar of this approach.
Marie-José Nadeau, an official member of the Advisory Board, and on behalf of the World Energy Council, highlighted the need for the new strategy to be geared towards action and to involve the private sector as much as the public sector to secure successes and outcomes. The Chair reiterated the commitment of the World Energy Council to keep supporting the initiative through its leadership, member committee's network and tools, especially with its
Energy Trilemma Index
. The Energy Trilemma Index was recognised by Ms Kyte as a key tool for catalysing policy action towards sustainable energy.
The Strategic Framework for Results was strongly welcomed as a substantive, action-oriented instrument for catalysing action toward SDG 7 and the Paris Agreement by the Advisory Board members. Many offered ongoing engagement and contributions towards its implementation.
The final version of the Strategic Framework for Results has been completed and its business plan will be unveiled in October 2016. Ms Kyte has been invited to present it to the global energy leaders community on day four of the
23rd World Energy Congress
to be held in Istanbul, during the opening session entitled 'Empowering Africa: Realising the Potential'.