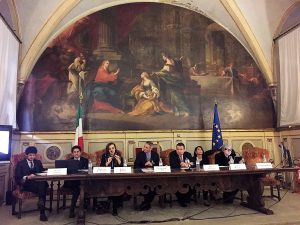 With increasing geopolitical and regulatory changes impacting on the way stakeholders within the energy sector have operated in recent decades, it is evident that an energy transition is well under way.
Marco Margheri, President of the
Italian member committee
of the World Energy Council, recently announced an engagement strategy which aims at facilitating the debate with high level Italian institutions on policies and macro-trends emerging within a time of "Grand Transition" within the energy sector.
In this context, Dr Christoph Frei, Secretary General of the World Energy Council gave a presentation to the Italian parliament on the Council's
2016 World Energy Trilemma Index
, in a meeting organised by the Italian member committee.
The meeting was also an opportunity for Dr Frei and key figures in the Italian energy industry as well as government Ministers to explore the changes taking place in energy on an international context and to grasp the implications for Italy. Discussions centered on Italy's international ranking within the World Energy Council's 2016, World Energy Trilemma Index, published annually.
The index includes detailed country profiles as well as regional analyses which allow policymakers and energy leaders quick access to the most crucial information while at the same time offering the possibility of engaging in more in-depth comparison with regional or economic peers.
Italy is among 13 countries out of over 125 assessed in the world, awarded "triple A
" on energy efficiency, energy equity and environmental sustainability by the Council and improves by 6 places in this year's Index, to rank 17, earning a perfect score across the board (overall balance score of AAA).
Italy has one of the most efficient thermoelectric generation systems in Europe and the energy mix for power generation is dominated by natural gas and renewable energy (gas 48%, renewable 28%, coal 15%, oil 3%, other 7%). Energy efficiency improved in the residential, commercial and transport sectors, with impressive achievements in the reduction of GHG emissions and water pollution between 2005 and 2013.
Measures aimed to lower the burden of incentives on energy bills, increased the share of renewables in thermal uses, and improved efficiency.
Recent policy developments include: an extension of the incentives scheme for PV installations, energy efficiency, seismic retrofitting of buildings, building renovations and energy storage systems; Conto Energia, a mechanism supporting the production of energy from solar PV and solar thermal plants in buildings and businesses; Conto Termico 2.0, which encourages measures to increase energy efficiency and the production of thermal energy from renewable sources; a 20-year plan for funding non-solar renewable energy such as wind, geothermal, biomass and thermodynamic.
Further interconnection of the Italian natural gas market with EU markets is expected to increase Italian energy security, also lowering natural gas prices in the wholesale market. The government has also restored the minimum limit of 12 miles from the coast for off-shore oil and gas drilling activities.
The meeting was also an opportunity for Dr Frei to present key findings from the Council's
2016 World Energy Scenarios: The Grand Transition.
"Our three Scenarios show three distinct pathways trough what we call the grand energy transition. What are the possible realities going forward? The Modern Jazz Scenario sees enabling of markets, international trade and represents a 'digitally disrupted' innovative world. Unfinished Symphony sees focus and consensus building on achieving long-term aspirations such as COP 21 agreements and is more orchestrated in nature, with a degree of picking the winner approach," Said Dr Frei.

"The third, 'Hard Rock', explores the consequences of less effort on both, enabling markets and guiding climate frameworks. It describes a more fragmented world dominated by inward looking policies leading to weaker economic growth and comparably low speed of innovation. Two years ago this scenario seemed much less plausible than today," noted Frei, who considers 'Hard Rock' the least desirable of the three projections made by the Council.

"A protectionist, inward looking and fragmented approach will slow down learning curves instead of deploying best technology. It will slow down technology innovation when we know we depend on it to solve the key challenges. It will lead to an increased use of local resources such as renewables, but based on less effective and more expensive technology; or of nuclear, but with less security as international collaboration also in this area is weakened; or of coal, but with more pollution." In short, "Hard Rock" is "more expensive, less secure and more dirty."

Other speakers present on the day included Hon. Stella Bianchi, President Intergroup Globe Italian; Marco Margheri, Chairman World Energy Council Italy; Hon. Ivan Scalfarotto, Under Secretary in MiSE; Nicolo Sartori, Senior Research and Energy Program Coordinator; Ettore Guglielmo Epifani, Chairman of Parliamentary Commission for Productive Activities of the House; as well as Hon. Ermete Realacci, President of Commission VIII Environment, Land and Public Chamber works.