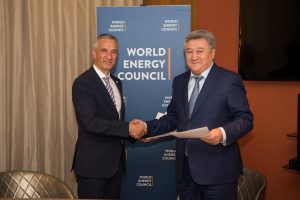 The World Energy Council and Eurasian Economic Commission (EEC), have signed an agreement highlighting the importance of cooperation in promoting and planning activities for effective energy capacity use in Eurasia.

Under the new partnership, the Council and the EEC committed to share experiences and best practice and develop sustainable energy policies, while strengthening the overall capacity of energy leaders and policy makers from five countries in the Eurasian region: Russia, Belarus, Armenia, Kazakhstan and Lithuania, three of whom are already members of the Council.

As the world's foremost principal impartial network of leaders and practitioners, the World Energy Council's partnership with the Commission will leverage the insights and content of the Council's work including the World Energy Issues Monitor Survey. The EEC will complement the Council's work, facilitating input from its own leadership network.

Under the new partnership the Council and the EEC will:
Work together to understand critical priorities of the leadership in the region of joint interest
Collaborate to implement programme and strategies to cover all types of energies
Explore innovative business models
Conduct mutual analytical research
Participate in joint and international events


Adamkul Zhunusov, Minister of Energy and Infrastructure, EEC, said:
"This partnership is very important for us and is the first of its kind between the two parties. This MOU was approved by all Ministers from our member countries within the EEC, and is the first step in highlighting prospects for closer cooperation within the energy sector between all the Council's member countries and those of the Eurasian region."

The agreement was reached during the Council's 2017 World Energy Leaders' week, between 16-19 October hosted by the Council's Portuguese member committee, and supported by the Ministry of Economy.
Comments
No comments have been posted