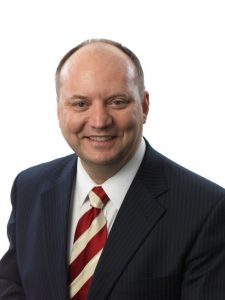 As we enter a new year, the World Energy Council talks to
Robert Hanf
, its new Vice Chair for the North American region about his vision for the next fives years, how to mobilise bright young future energy leaders, as well as his thoughts on the impact US President-elect Donald J Trump policies may have on climate change and the energy sector.

What vision do you have for North America in the next five years and what part/role do you see the World Energy Council playing in contributing to that vision?
Energy transformation will continue in North America, driven by technological innovation and the push to a lower-carbon economy. We envision the generation of electricity continuing to become cleaner, with better regional connections and collaboration - especially across international borders. We will see an electricity grid with the flexibility to facilitate options for customers like solar energy, micro-storage and the continuous adoption of electric vehicles.

The use of natural gas will continue to increase, as an option to fuels that are more carbon-intensive. This vision for a cleaner, more responsive energy sector is tempered by concern about the ability to earn community support for new large infrastructure projects.

Our vision for enabling the necessary expansion of infrastructure includes more inclusive and comprehensive engagement with communities and stakeholders to ensure decisions that need to be made to drive the economy have the support of those who consume energy products and use energy networks. The World Energy Council's flagship research reports offer insights on global aspects of energy sector transformation, which provide a useful broader perspective of value to energy managers.

How do you see your role as Executive Vice President, Stakeholder Relations and Regulatory Affairs, Emera Inc., and Vice Chair for the Council's North American region having a direct impact on the energy sector within North America?
As Executive President for Emera Inc and Vice Chair for the World Energy Council's North American member committee, I think there are three key elements:
Firstly, engaging in constructive conversations on public policy, community engagement and a regulatory framework that keeps pace with and enables innovative thinking on policy and service delivery

Secondly - to enable conversations about new ways to collaborate between countries, jurisdictions, different sectors, communities and interest groups

Thirdly - act and invest in a manner that supports our vision and desire to have constructive and rational conversations about energy, which is so important to our future

How do you see your role in mobilising future energy leaders within the region?
My role in mobilising future energy leaders starts primarily by helping the company I work for be a great employer, by hiring the best people and support them in their roles and give them opportunities to grow. By deliberately taking steps to promote diversity and inclusion in the workforce, as well as in the communities where we work and do business. By talking about innovation and the future, we can inspire people to innovate and take chances in their thinking and to consider energy as a career path. Also, the World Energy Council has a great young Energy Leaders program and the Energy Council of Canada has been reaching out to young energy professionals by tapping into networking groups in various cities, offering participation in our events and mentoring with our members.

How do you see the Council's North American member committees' role in facilitating deeper regional integration within the North American energy market?
Many of our member companies operate across the country and engage with their colleagues across the continent at our annual North America Region Energy Forum. By encouraging leadership dialogue about future direction, and bringing together people from different geographic regions, we can help everyone understand that sharing resources and collaborating with the jurisdiction next door makes each partner stronger. We see that every day in our own business. Being committed to the same result in the Council's dialogue and committee work will make a difference. I am looking forward to working closely with my World Energy Council colleagues Barry Worthington, Executive Director of the United States Energy Association; Dr Pablo Mulas del Pozo, Secretary of the Mexican member committee, and Graham Campbell, President of the Energy Council of Canada, to foster continued integration in North America, as well as working closely with our Secretary General, Dr Christoph Frei, and the Council's London team.

What do you identify as being North America's biggest challenge when addressing the energy Trilemma?
We are blessed in North America with the potential for Energy Security and are continuing to work towards being energy independent. We have momentum toward Environmental Sustainability, and I believe it will be hard to stop that momentum or reverse it – even if there is a pause to recalibrate. The biggest challenge is Energy Equity - for every region, every community and every person to have similar access to affordable energy. Some jurisdictions in North America are blessed with abundant supplies of cheap, clean energy; others are not.

Some jurisdictions have large populations which enable quicker implementation of new technology; others do not.Some jurisdictions are committed to innovation; others are slower in their adoption. Some regions of North America have a strong history of collaboration and energy interconnection; others not as much. Those differences can stand in the way of economic opportunity and competitiveness. Unless we are mindful about accessibility and affordability - for both energy supply as well as the infrastructure and technology for delivery - the last element of the trilemma poses some concern for me. I do believe that being in a strong position on two fronts gives us great opportunity to deal with Energy Equity.

In your opinion, what has been North America's major success story in energy of the last three years?
There are two: taking advantage of lower natural gas prices to improve access to cleaner fuel and adoption by electricity customers of energy efficiency and conservation. It's quite remarkable that as we use more things that consume electricity but overall use of the product is relatively flat.

What impact do you think President-elect Donald Trump will have on climate change and the energy sector, not only on a regional level... but globally?
We will need to wait and see. In some cases, changes he might talk about from a broad perspective might have already passed the tipping point in a particular region, and that means progress on things like emissions reductions will likely be sustained. I also hope that once the new administration is sworn in, we will have more certainty about priorities and future direction, which will help with planning and stability.