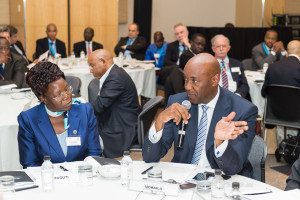 The Africa Energy Indaba brings together international and continental experts to share their insights and solutions to Africa's energy crisis, while simultaneously exploring the vast energy development opportunities on offer in Africa!

Adopted by the World Energy Council as its African regional event and presented by the South African National Energy Association (SANEA), the Africa Energy Indaba is supported by the African Union and the NEPAD Planning and Coordinating Agency. As such, the Africa Energy Indaba has achieved the highest level of endorsement and support for an energy conference on the continent. The Council will be holding a regional workshop for African member committees as part of the conference on 20 February. Read the full agenda below:


A G E N D A
World Energy Council Africa Regional Meeting
Monday, 20 February 2017
INDABA Venue - Boardroom 6 & 7 on Level 2
Sandton Convention Centre,
Johannesburg, South Africa
(08:30 AM – 12:30 PM)
8:30 – 9:00: Coffee and Registration
9:00 – 9:15: Welcome & Introduction
Welcome by SANEA

Opening Remarks & Introduction to the Meeting by the Chair: Dr. Ibrahim Elham, World Energy Council Vice Chair Africa

Approval of the Meeting Agenda

Approval of the Minutes of the Previous Regional Meeting (Istanbul, Turkey 8th October 2016).
9:15 – 9:25 Matters for Information
Brief information on the Portugal EA from 16 - 19 Oct 2017

Update on Strategy Review Process.
9:25 – 10:30: MCs business issues and Action Outcomes

Working group Discussion / Roundtables: Opportunity for MCs to present their ideas - e.g. their own experience of running a programme, seminar, carrying out a deep dive, etc. We will use the input to start a discussion and come up with helpful actions TO TAKE forward. The discussion will be moderated and MCs will actively develop their own action plans based on discussion and takeaways.

10:30 – 10:45: Coffee Break

10:45 – 11:30: MCs business issues and Action Outcomes (cont. and conclusions)

11:30 -12:25: Presentations
Presentations of the Global map and African maps (World map, Africa Region map and National deep-dive of Botswana, Namibia, South Africa and Swaziland).

Presentation of the 2016 WEC white paper on African Regional Energy Integration

Discussion
12.25 – 12.30: Other Items
Any other business?

Date and venue of next meeting
12.30 : Adjournment

12.30 – 13.30:Buffet lunch in the hallway – just outside the meeting room.

----------------------------------------------------------------------------------------------------------

14.00 – 17:30: Workshop on World Energy Council Energy Scenarios – African perspective