WORKING PAPER | HYDROGEN ON THE HORIZON: INPUTS FROM SENIOR LEADERS ON HYDROGEN DEVELOPMENT
The World Energy Council, in collaboration with EPRI and PwC, aims to provide a better understanding of hydrogen development worldwide for the energy community, building on the expertise and experience of its global network. In this context, we published a new Innovation Insights Briefing on Hydrogen in July 2021, seeking to start a multi-stakeholder, multi-level community dialogue on hydrogen's role in energy transitions.
Downloads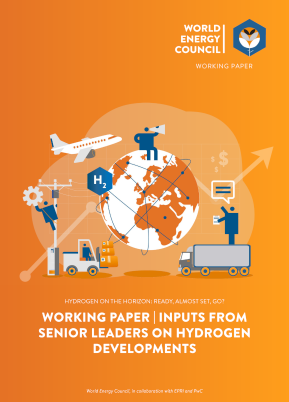 Working Paper | Hydrogen on the Horizon: Inputs from Senior Leaders on Hydrogen Developments
Download PDF
A need for further Dialogue and exchange among the energy community
One key topic emerging from the interviews with senior energy leaders is the wish for further dialogue to facilitate, accompany, or accelerate hydrogen development. Hydrogen dialogue can already be seen between countries (e.g., via the signature of Memorandums of Understandings) and between stakeholders (e.g., public-private partnerships). However, there is also a desire for more discussion at the regional level with more than two countries, between regions, as well as at the international level.
MORE ON HYDROGEN