This year, we celebrate the 10th anniversary of the World Energy Trilemma Index. Since 2010, the Report has provided an independent and objective rating of a country's energy policy and performance using verified global and country-specific data to assess management of three core dimensions: Energy Security, Energy Equity and Environmental Sustainability. The World Energy Trilemma Index enables countries to keep track of their own progress and to learn with and from each other about what's working and what's not.
The annual assessment is designed as a tool to be used, not a report to be read and placed on a shelf. In this report we also suggest 'how to' use the World Energy Trilemma Index as an energy policy pathfinding tool.
The Index analyses historic trends to enable energy policy makers and stakeholders to track their policy performance overtime and comparing with others to explore how to improve.
Key highlights:
Eight countries achieved the top AAA balance grade, representing top quartile performance in every dimension.

Improvement in Sustainability and Security go hand in hand. Sustained investments in wind and solar mean countries with the highest overall scores, such as Switzerland, Sweden and Denmark, have simultaneously reduced emissions while diversifying their energy systems.

Of the three dimensions, Equity has seen the greatest improvements since 2000, driven by policy-led efforts to increase access to energy in developing countries. The three countries with the highest improvement in the overall Trilemma score are Cambodia, Myanmar and Kenya primarily as a result of their performance on Energy Equity.

The highest scoring countries on Security have diversified energy systems and benefit from significant natural resource endowments. The three strongest performers – Canada, Finland and Romania – have large hydropower resources and are diversifying their energy mix through investment in solar and wind.

The rate of improvement in overall Trilemma performance generally increases as the transition progresses – typically, performance in all three dimensions are advancing and accelerating.
Energy transition brings globally unprecedented change to the energy sector as countries seek to decarbonise while energy policies and regulations themselves tend to lag with incremental step changes. This means that the Energy Trilemma Index needs to evolve continually in order to remain relevant by including the indicators that best reflect the evolving energy sector by modifying data sources or indicator coverage. Changes to the 2020 Trilemma have been incremental and focused on refining the model, although we are evolving the visual presentation. The dimension chapters include summary graphics and text with colour coding to highlight key insights. We have also evolving the graphical presentation of the Trilemma triangle to move away from the orange block towards a colourful composition that better reflects the uniqueness of each Trilemma triangle. The three Trilemma dimension have their own colour aligned with their chapter colouring so the mix for each triangle reflects the differing balances between the dimensions. This multi-colour approach also reflects that energy transition is not single coloured and will reflect a spectrum of differing pathways dependent upon varying national circumstances.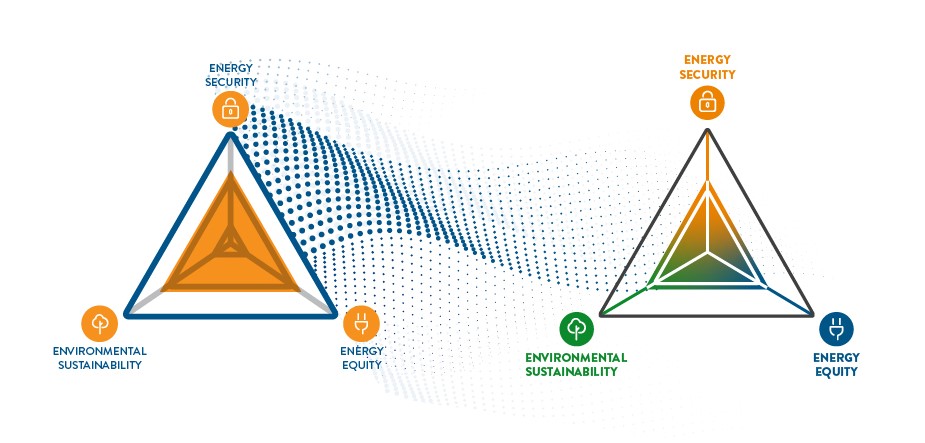 We cannot lose sight of the impact of the COVID-19 pandemic. We expect the post-pandemic recovery to reshape energy policies and the agenda for Energy Transition, where the Trilemma as a pathfinding tool should become the indispensable guide to a more equitable, sustainable and affordable energy future.
Full results and profiles per country, historical trends in each dimension and analysis from national stakeholders are available via the online Trilemma Tool.