WORLD ENERGY COUNCIL 2022
The World Energy Trilemma is in its 12th year of publication amidst a time of unprecedented energy shocks and multiple crises that continue to cause disruptions to energy systems. The interaction of these shocks and crises has a cascading impact that affect energy security, energy affordability and sustainability issues including climate change across regions.
Driving a clean and just energy transition that simultaneously ensures a secure, equitable, and sustainable way forward continues to be a complex problem. 2022, the year of convergence of the crises, reinforced the need for balance in the dimensions of energy security, affordability, and sustainability. The Trilemma framework continues to offer a baseline for designing and developing new insights to assist regions in understanding the impact and track the progress of their energy transitions.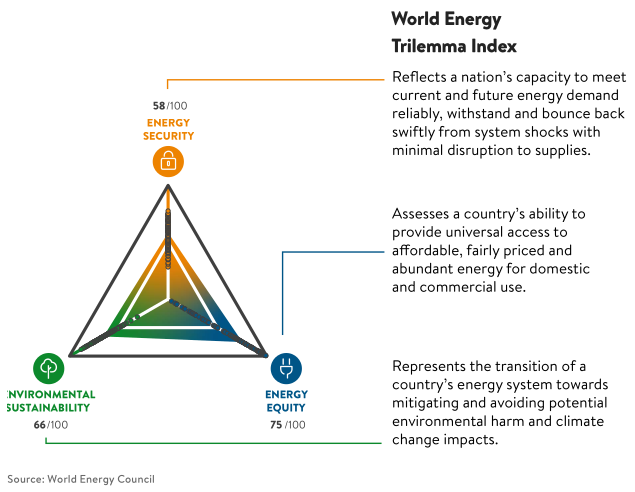 The present state of the Trilemma dimensions highlights trajectories that are not aligned to the recent energy shocks and crises; the 2022 data is not reflective of the existing energy situation. However, the long term trends in the data remain informative as countries seek to drive a secure, equitable, and sustainable transition. This 2022 report examines how the Trilemma offers a prism on the past and opportunities for driving forward improvements to measure the impact of the energy transition.
DISCLAIMER: the impacts of turmoil in energy markets on World Energy Trilemma Index 2022 outcome.
Given the recent speed and scale of change across energy markets caused by the war in Ukraine, the relevance of the 2022 World Energy Trilemma Index source data carries risk. Data was sourced prior the conflict.
Accordingly, the 2022 report focuses mainly on the lessons learnt from the different shocks and crises of the year and will inform about new metrics needed to incorporate justice (users) and resilience agendas.
The World Energy Council's Insights team has an ambitious delivery plan for next year.
The 2023 plan will be to progress the flexible Trilemma approach that is more resilient to the multiple crises that we witnessed in 2022.
The redesign will focus on the transparency of the methodology and the increased ability to measure and track the performance of different countries.