Covid-19 Crisis Scenarios
In less than six months, COVID-19 has led to dramatic changes around the world and impacted societies, economies and firms. A vital shift of global energy systems is underway. How will this pandemic change the future? To assist our global energy community, the World Energy Council has developed four plausible scenarios that can be used to stress test exit strategies - how we can emerge from the crisis as a more resilient society and continue to accelerate a successful global energy transition.
The "unknowns" of the COVID-19 crisis cover every aspect of global response and recovery. How pernicious is the pandemic? Will it be solved with primarily a technology fix or require sustained behavioural change? How quickly will the global economy recover? Will recovery happen in a way that builds trust between countries, through wider collaboration, or will governments emphasise more self-reliance? Once the pandemic is under control – a process that could take upwards of 4 years - will countries return to a pre-pandemic agenda? Or will they engage with a more ambitious transformational agenda? And what are the implications for energy?
There are many shapers of the future, but three critical uncertainties stand out: Ambition, Trust, and Control of the virus.

Four Plausible and Alternative Scenarios
Plausible and alternative scenarios have been developed to explore potential paths forward along the ambition/trust spectrum: Pause, Rewind, Fast-Forward and Re-Record.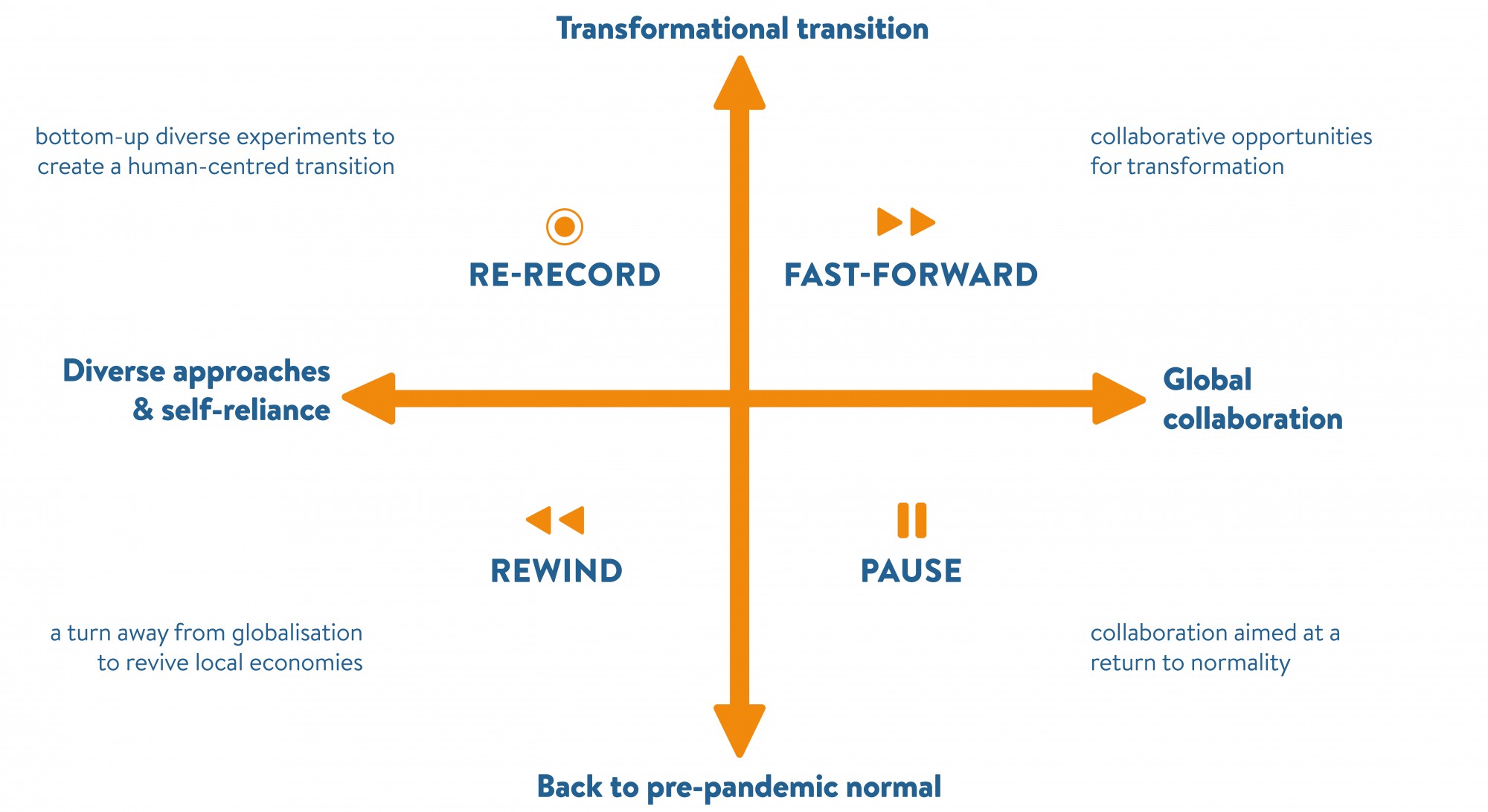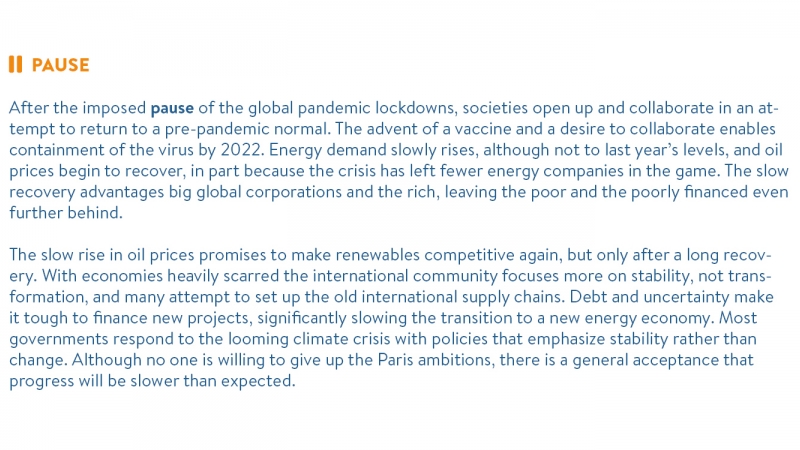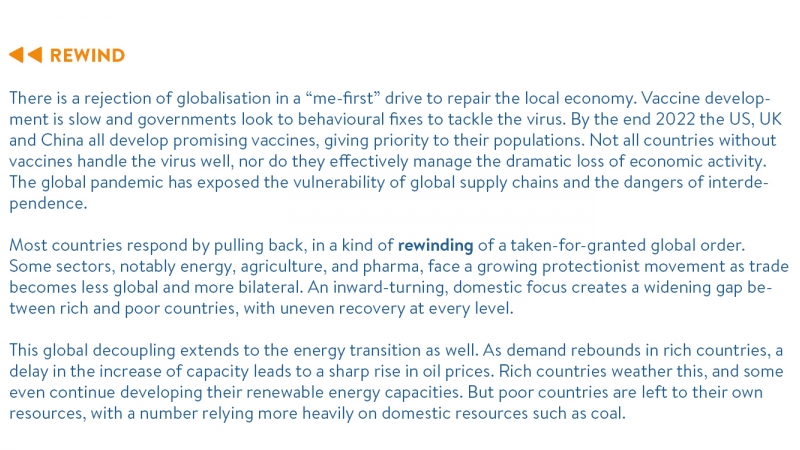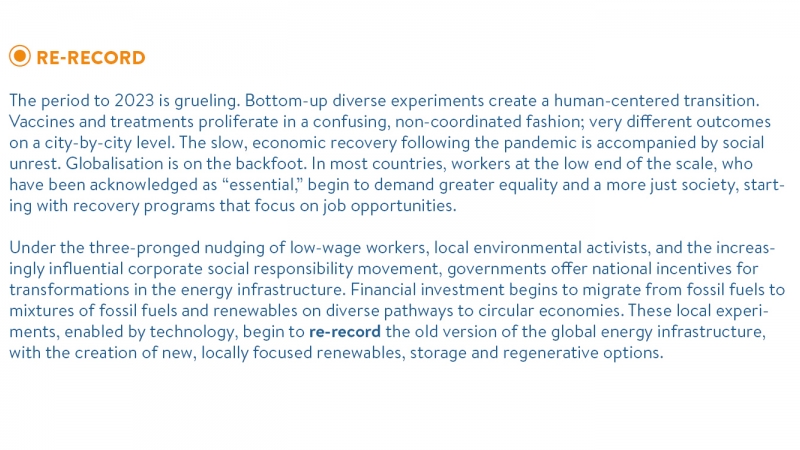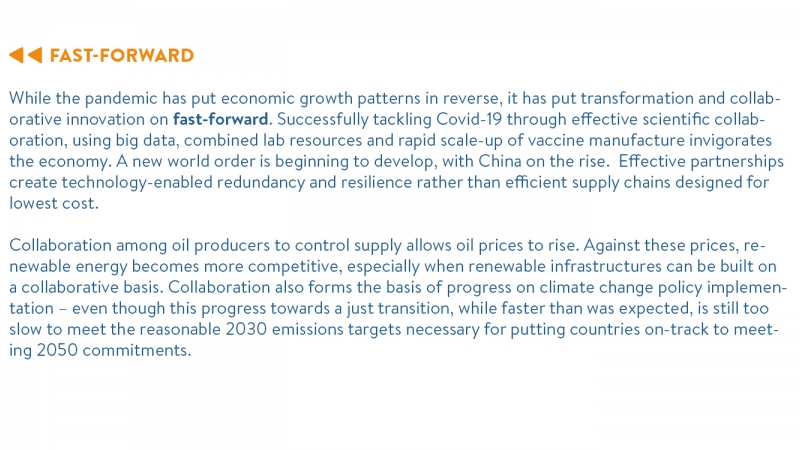 The Use of Scenarios
While it is impossible to predict future of energy, we can prepare for and shape what comes after crisis. The Council promotes and uses plausibility-based scenarios to prompt leadership conversation on reallocation of investments, exit strategies and a possible new integrated policy paths to enable orderly global energy transition as the world emerges from crisis.
Are You Paying Attention to the Changes That Really Matter?
The World Energy Council is scanning signals of change from around the world to see through the current fog of uncertainty, enhance a strategic conversation on different energy futures and enable orderly global energy transition. Help to shape the post-pandemic agenda by detecting and sharing signals of change.
Learn more about signals emerging around the world and what they mean for different futures.
COVID-19 News and Resources
Learn more about the World Energy Council's agile community-based scenario building process including key findings and wider perspectives on emerging developments.