World Energy Covid Scenarios
The COVID-19 crisis has, and is, having significant and uneven impacts across all societies and economic sectors. The global energy sector is one of the most severely affected. Emerging from crisis and managing global energy transition are not going to be easy.
The "unknowns" of the COVID-19 crisis cover every aspect of global response and recovery. How pernicious is the pandemic? Will it be solved with primarily a technology fix or require sustained behavioural change? Will recovery happen in a way that builds trust between countries, through wider collaboration, or will governments emphasise more self-reliance? Once the pandemic is under control, will countries return to a pre-pandemic agenda or will they engage with a more ambitious transformational agenda?
To assist our global energy community, the World Energy Council has developed four plausible scenarios to 2024 – Pause, Rewind, Fast-Forward and Re-Record – that can be used to stress and design recovery strategies. Each scenario explores three critical uncertainties – ambition, trust and ability to control the virus – and how these combine to shift the pace and direction of global energy transition.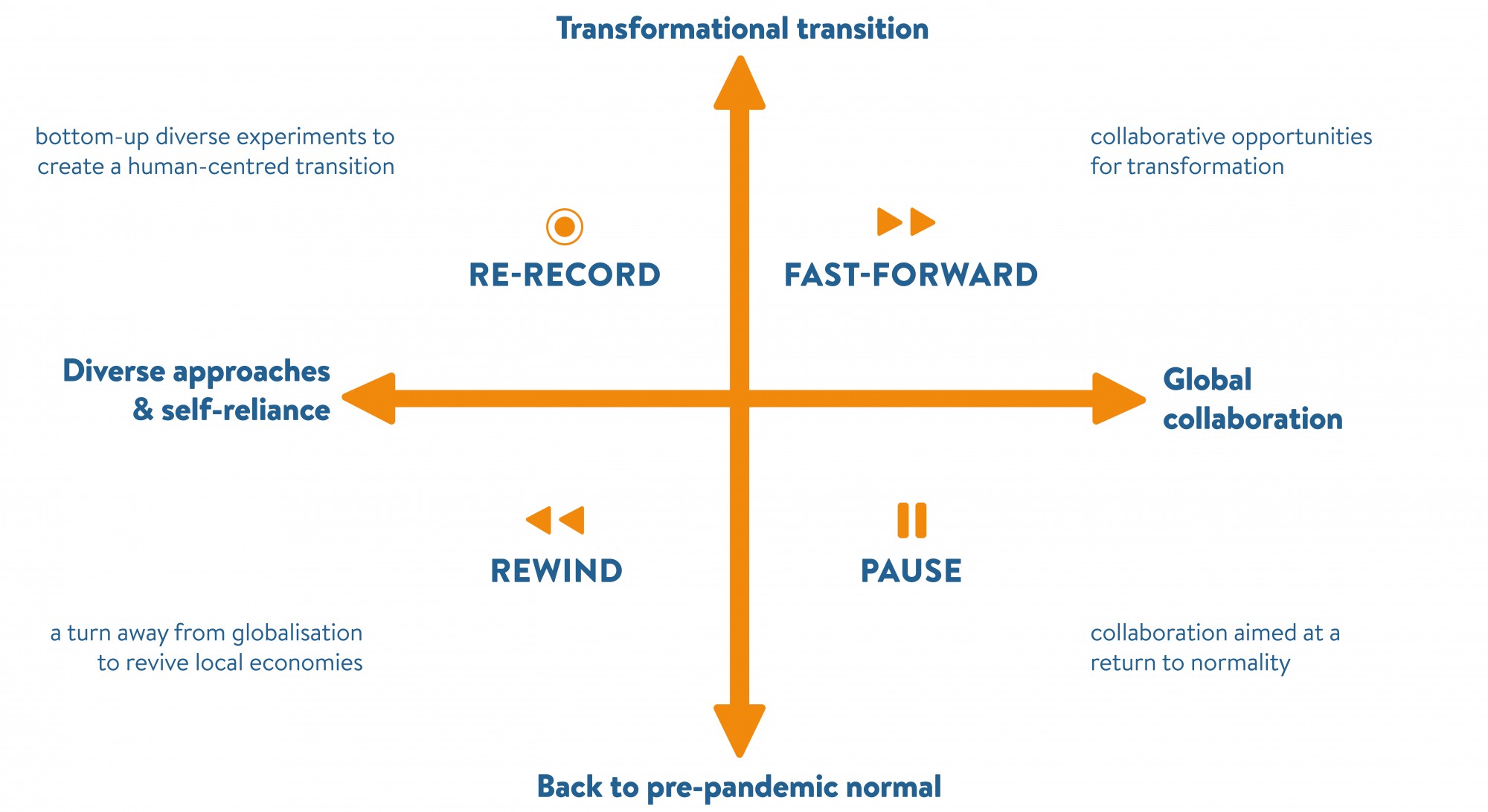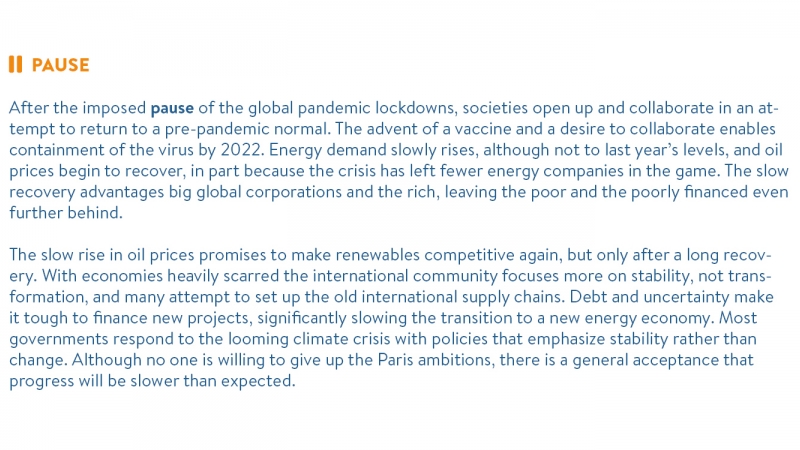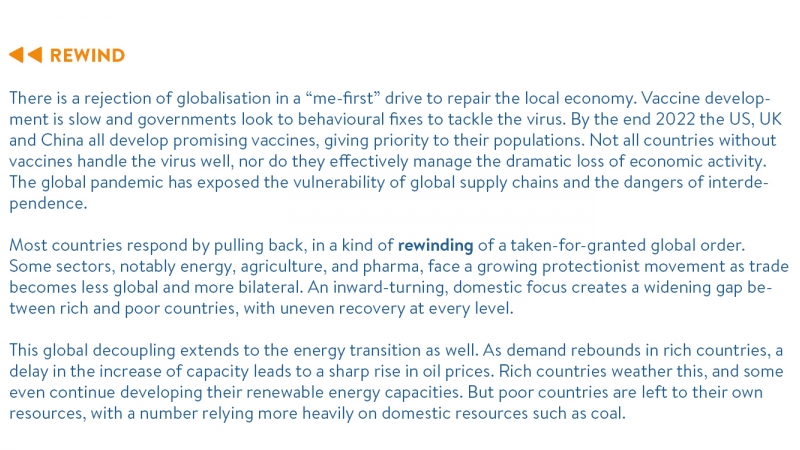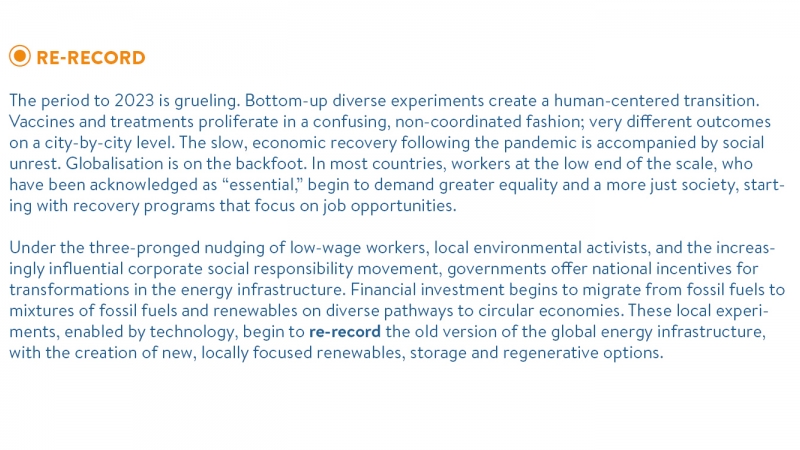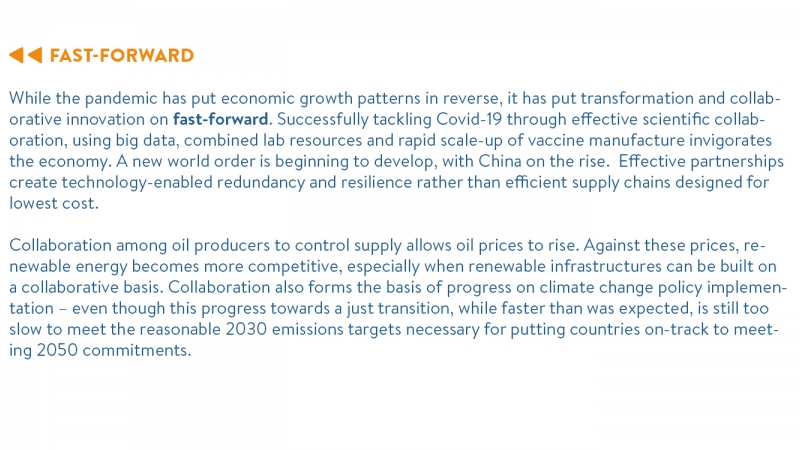 The Use of Scenarios
While it is impossible to predict future of energy, we can prepare for and shape what comes after crisis. The Council promotes and uses plausibility-based scenarios to prompt leadership conversation on reallocation of investments, exit strategies and a possible new integrated policy paths to enable orderly global energy transition as the world emerges from crisis.
Are You Paying Attention to the Changes That Really Matter?
The World Energy Council has developed the world's first World Energy Transition Radar to scan signals of change from around the world to see through the current fog of uncertainty, enhance a strategic conversation on different energy futures and enable orderly global energy transition. Help to shape the post-pandemic agenda by detecting and sharing signals of change.
Learn more about the World Energy Transition Radar.
COVID-19 News and Resources
Learn more about the World Energy Council's agile community-based scenario building process including key findings and wider perspectives on emerging developments.