The 7th Bolivia Gas & Energy Congress 2014 reviewed the top issues on the current energy agenda.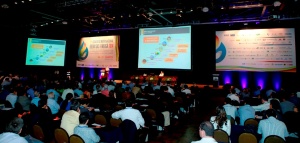 Twenty speakers and 500 delegates attended the event, held on 20–21 August in Santa Cruz by the Bolivian Chamber of Hydrocarbons and Energy (CBHE),
the WEC national committee
.
The discussion was framed in the context of the theme of energy globalisation and the future of oil, gas and other types of energy. On day one of the event, WEC Secretary General Christoph Frei, spoke of concerns about growing demand for energy worldwide, adding that
"countries and industries must fulfil society's and businesses' requirement for energy."
He emphasised balancing the energy trilemma, which requires not only a high security of supply, but also that energy reaches all while minimizing environmental costs.
WEC Vice-Chair for Latin America and the Caribbean, José Antonio Vargas Lleras, stated that energy intensity is decreasing every year globally. "I
n Latin America we are doing pretty well
," he said, with the region's energy intensity only 15% above the world-leading countries in Europe.
Concluding the event, the President of CBHE, Claudia Cronenbold, assured delegates that with the congress "
we [are] renewing our ideas and energy to work in the permanent pursuit of a more competitive energy sector and with capacity to contribute positively to our country
". Bolivia's Vice President, Álvaro García Linera, closed the event urging that "Bolivia cannot remain on the sidelines" in the development of nuclear energy.
The Congress also had 16 other speakers speaking about the issues of shale gas (unconventional gas), petroleum, nuclear energy, energy efficiency, global trends in oil and gas, the Mexican energy reform, geothermal energy, new technologies in drilling, and Bolivia's programmes and investments in energy and hydrocarbons.
Bolivia Gas & Energy is an annual international congress which brings together leaders and experts from the energy industry and especially from the hydrocarbons sector with local and international plus private and state actors.
In parallel with the congress the WEC also held meetings with its national committees from the region, including Brazil, Peru, Colombia, Argentina, and Bolivia.
Comments
No comments have been posted