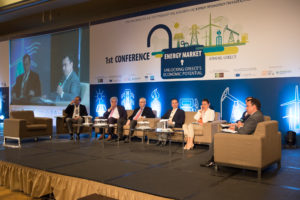 More than two hundred participants attended the first energy market international conference organised by the
World energy Council's greek member committee
and the Hellenic Association for Energy Economics.
Presidents, CEOs and other executives from major companies of the international and local energy market were among the guests at the conference,
'
Energy Market: Unlocking Greece's' potential', in Athens. Representatives of international and European organisations were also there to give their perspective on current developments around the energy market.
During the conference, important discussions were raised in order to advance Greece's geostrategic role in the EU and economic growth through the energy market.
Despite the country's financing, legal and bureaucracy difficulties, key players in the energy market expressed their optimism for Greece's potential in the industry.
According to the President of the Technical Chamber of Greece, Mr. George Stasinos, the energy market is estimated to produce around 40,000 direct and indirect jobs in the country in the next few years.
The director of the office of the US government for Europe, the western hemisphere and Africa, Mr. William Silkworth, stated that the US are continuing to ensure healthy competition as well as market transparency, in order to drive a decrease in prices that will ultimately benefit consumers.
The CEO of DESFA (Hellenic Gas Transmission System Operator), Mr. Konstantinos Xifaras, said that now is a golden opportunity to make good infrastructure through continued investments from the Independent Power Transmission Operator and DESFA, that will attract investment capitals either Greek or foreign for a balanced growth.
The CEO of Attica Bank, Mr. Alexandros Antonopoulos, mentioned immediate financing of mature projects in the field of Renewable Energy Sources and waste management, in the second half of this year.
Finally, Mr. Anar Mammadov, CEO of Socar Energy Greece, mentioned the important benefits of the Technological Advancement of Power (TAP), he also said that he is looking forward to the completion of the takeover of the majority of DESFA, which is currently delayed due to objections from the EU.
The conference was followed by a dinner at the same venue, where attendants where given the opportunity to exchange opinions in private and lay the ground for future partnerships and deals.