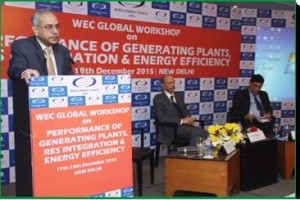 The latest findings of the World Energy Council
Renewable Energy Sources Systems Integration
, RES, report were presented at a workshop organised by the
Indian member committee
with support from World Energy Council Global Partner CESI SpA, Italy, in New Delhi in December 2015. The meeting was attended by nearly 100 senior executives that included Shri P K Pujari, Chair of the Indian member committee and Secretary of Power who gave a keynote address.
One of the preliminary conclusions of the report which focused on the topic of integration of volatile RES in electricity system was that electric power systems must be more flexible to integrate the growing number of volatile, large and small-scale distributed generation. There were also discussions about the improvement of power plant performance and energy efficiency policies and indicators.
Shri P K Pujari said:
"The topics of the workshop are highly relevant in this context when the world is aiming for less than a 2 degree rise in temperature over pre-industrial levels. With the World Energy Council global knowledge network working on these issues, this is an opportunity to set up standing knowledge networks at the national level on performance of generating plants, renewable Integration and energy efficiency which will look at these issues in the national context."

The RES report identifies a number of challenges for immediate action:
Traditional power generating units: quick changes in the load, increased reserve capacity, balancing primary and secondary reserve, limits to CHP electrical flexibility, reduction of operating hours for conventional power plants, "overproduction" of RES power during low demand days which may cause the grid to reject volatile RES.

Electricity market: wholesale price distortions, new merit order.

Ancillary services and balancing costs: significant increase.

Transmission and distribution grid: grid expansion becomes a necessity, reverse power flow in primary substations, effects of a fault can spread over a very wide area and impact quality of supply.

Consumer: some incentives programmes appear as levy on electricity bills, thus increasing electricity prices to the final consumer despite price reductions in wholesale pools.