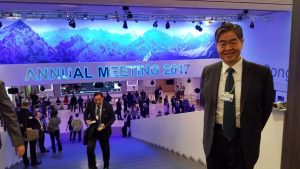 Younghoon David Kim,
Chairman from the World Energy Council
attended the
47th World Economic Forum Annual Meeting
held in Davos-Klosters, Geneva, on 17-20 January 2017 under the theme "Responsive and Responsible Leadership". The event aimed to foster world leaders' collective responses and credible actions in the context of "an emerging multipolar world", similar to those trends set out in the World Energy Council's recently published
World Energy Scenarios
entitled, 'The Grand Transition'. In his 14th year of attending the annual leaders' meeting, David Kim shares with the network some of his key takeaways from this year's Davos meeting.

The importance of the Asian voice
Signalling a shift in the role of Asian leadership Davos welcomed its first appearance from a Chinese leader. President Xi of the People's Republic of China provided the one hour opening plenary which was very compelling to see.

His presence, together with several senior Chinese government officials, including Mr. Nuer Baikeli, Administrator of the National Energy Administration and Vice-Chair of the National Development and Reform Commission of China, who spoke about China's desire to "really promote smart, decarbonised energy in the future and improving energy efficiency", was a strong signal to the world and to the energy sector. Mr Baikeli, who is also Vice-Chair for the Asia Region of the World Energy Council, also pointed out that there was "no one size fits all" when it came to solutions with China, assessing its unique situation in terms of its own energy Trilemma.

Mr Baikeli's role with the Council and his words at Davos highlight more than ever the importance of the Council's continuous outreach and efforts to work with China. China will this year host the Clean Energy Ministerial in Beijing, which will include representation from the Council, and our working relationship with the ERI will further build on the meeting held between Mr Kim and Mr Baikeli which aimed to reinforce such collaboration.
The major topics highlighted in Davos which were similar to those addressed by Council and David Kim and that were discussed at the World Energy Congress included:
The important role of energy storage and its increasing mainstream concern. This was exemplified by the confirmation that Total was to buy a battery company and Patrick Pouyanne, CEO of Total, explained that: "You have to find a solution to store energy if you want to make renewables profitable."
The critical idea of "Maintaining Innovation" and the necessity to bring people (inventors and investors) together was also highlighted. Again this was a major theme in the Council's 7 realities messages issued during the
2016 World Energy Congress
as well as the
Chair's inaugural address
. At Davos, Alice Gast, President of Imperial College London and renowned scholar and author, summarised this thinking saying:
"Innovation requires an environment, resources and people. A great environment includes basic research, unfettered ability to pursue new ideas (even if they are a challenge to the status quo). Resources are important including risk capital, places for companies to grow and places for people to convene. But it's mostly about people - about the innovator. Bring the right people together and give them the right opportunities."
The importance of "bringing basic science back into innovation" and "curiosity-driven fundamental research" were also main topics mirroring Chair Kim's mentions of Faraday and Tesla in Istanbul.
One of the most controversial statements heard was provided by Oleg Deripaska; President of RUSAL, the largest aluminium company in the world; who said
"Renewables are just an excuse to use more coal in some countries."
This sounded extremely provocative with countries such as India and Japan being represented in the room.
Finally, a point also made at the World Energy Congress related to the current lack of investment due to low oil prices. In this respect Chair Kim felt that the most relevant comment came from Energy Minister Khalid Al-Falih of Saudi Arabia who highlighted that there could be a shortage of oil supply by 2020 if investment did not pick up.
Al-Falih said in an interview with CNBC
"We know, from what we have seen in the last couple of years, that prices around the current level and below are not attracting enough investment. We know the level of decline, natural decline, that existing production is undergoing, and we know that demand is picking up at, you know, 1.2 to 1.5 million barrels a year."
"So between increase in demand and natural decline, we need millions of barrels every year to be brought to the market, which requires massive investment."