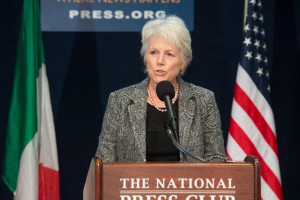 Marie José Nadeau
opened the 2015 North America Regional Energy Forum in October in Washington, DC. where she and the Regional Vice Chair for North America,
Dean Oskvig
, President and CEO of Black & Veatch Energy, both spoke to the theme "World Energy Council on the Global Stage: How Does North America Fit In?".
Additional themes included regional perspectives on oil and natural gas; electric power; carbon capture and storage and issues relative to the Paris COP21 talks.
At the Forum there were two keynote presentations with a focus on Intended National Determined Contributions (INDCs) that addressed the "Inputs and Outputs of the Paris UNFCCC-COP". Canada was represented by Lisa Demarco, Senior Partner with Zizzo Allan Demarco, LLP and Mexico was represented by César Contreras Guzman, Chief Advisor to the Undersecretary for Planning and Energy Transition – Ministry of Energy of Mexico.
This year's Forum was linked to the 8th Annual
United States Energy Association
Energy Supply Forum which was held the day before the World Energy Council Regional Energy Forum which all three World Energy Council committees from
Canada
,
US
and
Mexico
attended. The focus was on energy supply issues in each of the countries.
There were lively discussions on North American natural gas supply; the future of coal around the world; the role of nuclear; unconventional oil production; the utility of the future, electric power transmission technology and policy, cross border trade, and the role of renewables.
Comments
No comments have been posted