Fiza Farhan, one of the Future Energy Leaders of the World Energy Council, has been named by Forbes as one of this year's "30 under 30" social entrepreneurs for her efforts to bring renewable energy to poor, rural areas of Pakistan.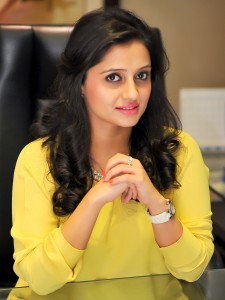 [ Fiza Farhan, 28, co-founder of the Buksh Foundation

Ms Farhan, 28, leads the "Lighting a million lives" project at the Buksh Foundation which she co-founded in 2009 with Mr Asim Buksh, a high-end goods retailer with a social responsibility mission.

The Buksh Foundation provides microfinance to enable energy projects to be set up for villages in Pakistan that have no grid access. As basis for the project, each village would be provided with a centralised solar charging station, while a woman entrepreneur would be trained to set up and run the station for her customers.

Farhan and her co-founder embarked on the programme as they believed renewable energy could be a cleaner, cheaper alternative to traditionally used kerosene oil while providing employment for women in rural Pakistan. This would impact on the lives of the communities in many ways, from enhanced productive hours, to better health standards, to increased hours for education. The programme would be "life changing", said Farhan.
Empowering women entrepreneurs
In order to make these rural off-grid village projects successful it was critical for Buksh Foundation's teams to create awareness of renewable energy amongst the communities and to appoint and train agents to run the projects from within the village circles.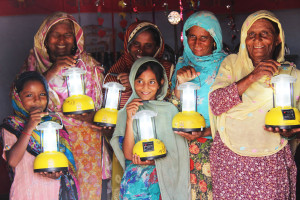 [Roshnan Bibi - or "Light Ladies" - receive their first solar power lanterns]
To achieve this, Farhan and her team focused on
empowering women on their entrepreneurship skills
. They trained one woman from each village on taking charge of the photovoltaic power stations the Foundation had set up for each community.
The villagers benefit by having lower lighting costs, as the rental they pay is half of what they would have spent on fossil fuels and kerosene. Each entrepreneur would receive a loan of US$300–500 to cover the project costs, with the loan repayable over 9 to 12 months.
For a number of villages, the Foundation covers the project costs via donations from companies, development funds, grants from embassies, and Pakistani charities. Donations total $5500 for a village of 50 households.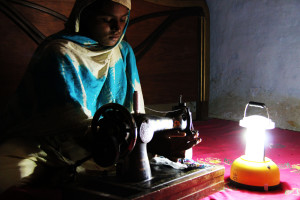 [ Lighting a Million Lives has enabled many young girls and women to enhance their household income by up to 20%, as the solar lanterns have allowed many young girls and women to work at night in their own home-based stitching and embroidery businesses.]

So far the Buksh Foundation has brought solar lighting to 7,500 households in 150 villages and has provided business and clean energy loans to 12,000 entrepreneurs.Farhan will continue to develop the entrepreneurial skills of women in rural Pakistan and aims to bring clean energy to 4000 villages by 2017, an effort which she believes will directly impact on 1 million lives. By directing her training services at women, she believes the projects will have more lasting impact as the 150 women that have been trained so far have gone on to share their entrepreneurial skills and knowledge with their families and communities.
Building a platform for international engagement
Fiza Farhan joined the World Energy Council as a
Future Energy Leader
last August upon invitation from the Pakistan member committee. Taking part in the Council's activities has been beneficial for her work. "Being a Future Energy Leader has given me the chance to build a platform between Pakistan and global stakeholders from the private and civil sectors which enables international engagement with Pakistan's economic status and energy situation," she said. "Pakistan's renewable energy resources are still untapped and present an incredible opportunity for the international business community," she added.

The Buksh Foundation is also working with the Pakistani member committee to raise awareness of the energy crisis and identify solutions for the country.

Forty-seven percent of Pakistan's population still remain without access to electricity, and those that do have access often experience 10 to 14 hours of blackouts per day. Steps are being taken to address Pakistan's energy crisis, with both the government and the private sector taking an active part.
Triple bottom line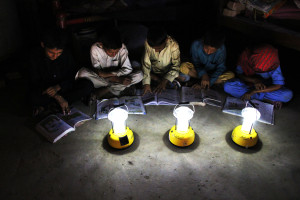 [ The project has increased access to education and enrolment rates in schools for both boys and girls. With the solar lights, children can now study at night and enhance their performance.]

For example, Pakistan has launched its first 10 MW solar power plant in a project launched by Buksh Energy – a sister company of the Buksh Foundation – with support of the Punjabi government. Mr Buksh and Ms Farhan envision the two Buksh organisations to fulfil 5% of Pakistan's energy needs with renewable energy by 2020.

So is not just the government that can help solve the country's energy crisis; entrepreneurs can have a major role. Farhan said: "While there are many challenges within Pakistan's energy sector, there are also many opportunities for companies and individuals to identify and align with. Pakistan presents a great opportunity for international investments with profitable 'triple bottom line' impacts."
Forbes 30 Under 30
The Forbes 30 Under 30 award each year celebrates 30 young movers and shakers under the age of 30 who have come up with innovative ways to help solve global problems:
http://www.forbes.com/30under30/
– Story by Lily Rose Syed, World Energy Council media and communications team.
Find out more about the World Energy Council's Future Energy Leaders programme here.