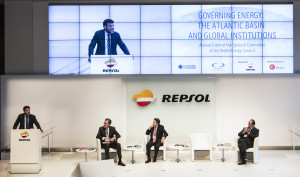 This year the theme of the annual
Spanish member committee
conference in Madrid was "Governing Energy: the Atlantic Basin and Global Institutions". It brought together almost 400 attendees and 25 national and international speakers including Alberto Nadal, Spanish Secretary of State for Energy. Discussions focussed on energy flows in the Atlantic Basin, the governance of energy institutions, the World Energy Issues Monitor as well as
COP21.
The conference heard how the Atlantic Basin is emerging as a new axial region for the geopolitics of energy. New producers and resources, rising demand and divergent energy policies are marking out new economic and political landscapes in the region as well as across the world. Also, at the same time, the region is witnessing a moment where energy has become a key element of global governance on issues such as climate change and cooperation on subsidies policies.
There was much discussion about how in recent years in Europe, and especially in Spain, there has been strong "Atlantisation" of hydrocarbon imports. It was universally agreed that the Atlantic Basin offers a strong potential for diversifying supplies and markets, while additionally helping to counterbalance the pull that Asia has on America.
Speaking at the conference, Alberto Nadal, Spanish Secretary of State for Energy endorsed the importance of progressively balancing conventional energy sources with renewables. Also Carlos Pascual, former Coordinator for International Energy Affairs of the US State Department, spoke at the event where he stressed the need for fostering a global energy competition market to encourage diversification and reduce monopolies.
In other sessions there was much debate about the European "Energy Union" and the establishment of a common European stance on energy governance. Marta Camacho, Secretary General of Spain's member committee, helped the audience interpret the results of the World Energy Issues Monitor
relating to Spain, analysing what issues keep Spanish energy leaders awake at night.
In concluding the meeting, Arturo Gonzalo, Chair of the
Spanish member committee
, said:
"Overcoming the lack of a global energy governance framework will be crucial in order to reach a more sustainable and brighter future. We are facing a critical moment when international cooperation will be key to progress."