New Global Electricity Initiative (GEI) report identifies the untapped opportunities for electricity utilities to further deliver a low-carbon future.
COP-20, Lima, Peru, 9 December 2014 –
A joint adaptation and mitigation approach, new energy storage technologies, and stable policies along with a meaningful carbon price will be required if countries are to deliver universal access while reducing emissions. This is according to a new report by the
Global Electricity Initiative
, released at COP-20 today in Lima, Peru.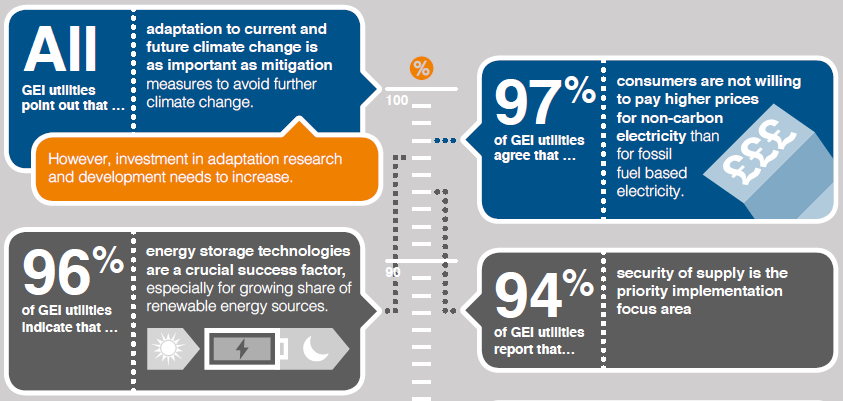 The Global Electricity Initiative's 2014 report, drawing on the views of CEOs of utilities from countries which together account for about 80% of the global installed generating capacity, emphasises that a meaningful price for CO2 is crucial in facilitating significant change in the fuel mix of the global electricity sector.
Urgent action is required to help sustain the growing role of renewables and other carbon-free technologies in meeting the rise in global energy demand, the report finds. On current trends fossil fuels will continue to dominate, supplying between 77% and 59% of global primary energy mix by 2050, according to figures in the report.
Philippe Joubert, Executive Chair of the Global Electricity Initiative, said:
"The report highlights the fact that utilities remain strongly committed to providing a secure supply of electricity as their top priority. Moreover, despite getting contradictory signals and different priorities from regulators and customers, utilities are focusing on decreasing emissions and minimising environmental impacts."
"The ability to make sound investment choices in the electricity sector is heavily dependent upon the existence of long-term stability in policies and regulation. This stability is direly needed. The European Council's climate agreement and the historic accord between the US and China to reduce their CO2 emissions have sent encouraging signals. Now, it is crucial to build on the momentum in Lima in reaching a focused and comprehensive agreement for Paris next year and to kick-start the action to provide sustainable energy for all."
Christoph Frei, Secretary General of the World Energy Council, which hosts the GEI secretariat, said:
"Utilities have lost their status as darling of the financial industry as they face great uncertainty and political risk. In 2014 we have seen a great need for a new electricity market design to address an increasingly unpredictable supply due to growing shares of solar and wind in the electricity mix. Water and land issues are among the top priorities requiring new solutions. With input from the leaders representing 80% of global supply, this survey provides essential insight into the key challenges and opportunities to achieve a more sustainable electricity system."
The Global Electricity Initiative report finds that:
For the utilities surveyed, security of supply is the first priority and climate change is a reality. 100% of the utilities believe that adaptation to climate change is as important as mitigation.

The change in energy mix is possible but will need time. Therefore, long-term thinking, stable and clear regulation, strong collective commitment, and a meaningful carbon price are crucial for decisions on how to redirect investment.

96% of the utilities see new advanced energy storage technologies as crucial success factor to growing the share of renewable energy. In addition, they are already working on other advanced technologies such as smart grids and carbon capture and storage (CCS).
The Global Electricity Initiative report also finds that utilities support the objective of bringing energy to all by 2030. However, they express concerns that universal access to energy, in particular in Africa and Asia, will not be achieved unless governments, industry and the international community take immediate concerted action.
Kandeh K. Yumkella, United Nations Under-Secretary-General and Special Representative of the Secretary General and Chief Executive Officer for Sustainable Energy for All, commented:
"Transforming the current inequitable and unsustainable global energy system will require sustained political efforts as well as the participation of many stakeholders including governments, the industry, the private sector, civil society and multilateral development partners among others to ensure everyone is able to manage their lives and thrive economically."
The survey, conducted with the global management consulting firm Deloitte, Southern Africa Office, also showcases best practices and the views of senior industry executives.
The results will be launched on
9 December
at the UNFCCC's Conference of Parties (COP) in Lima, Peru. The
press conference
takes place from 10 to 10.30 a.m. in Press Conference Room 2 in the main COP venue. If you will not be at COP, you may watch the press conference live or on-demand on:
http://unfccc6.meta-fusion.com/cop20/
###
Download the
2014 Global Electricity Initiative report
Comments
No comments have been posted